Translate this page into:

doi:
10.4103/jnrp.jnrp_145_18
Neuro-Ophthalmology at the Bedside: A Clinical Guide
Address for correspondence: Prof. Josef G. Heckmann, Department of Neurology, Municipal Hospital Landshut, Robert-Koch-Street 1, Landshut-84034, Bavaria, Germany. E-mail: josef.heckmann@klinikum-landshut.de
Copyright: © 2018 Journal of Neurosciences in Rural Practice
Licence
This is an open access journal, and articles are distributed under the terms of the Creative Commons Attribution-NonCommercial-ShareAlike 4.0 License, which allows others to remix, tweak, and build upon the work non-commercially, as long as appropriate credit is given and the new creations are licensed under the identical terms.
Disclaimer:
This article was originally published by Medknow Publications & Media Pvt Ltd and was migrated to Scientific Scholar after the change of Publisher; therefore Scientific Scholar has no control over the quality or content of this article.
Abstract
Neuro-ophthalmological signs and symptoms are common in the emergency department but are a frequent source of diagnostic uncertainties. However, neuro-ophthalmological signs often allow a precise neuro-topographical localization of the clinical problem. A practical concept is presented how to perform a neuro-ophthalmological examination at the bedside and to interpret key findings under the aspect of emergency medicine with limited resources.
Keywords
Blurred vision
diplopia
headache
Horner's syndrome
neurological emergencies
neuro-ophthalmological examination
I
NTRODUCTION
W. F. Hoyt, a pioneer of clinical neuro-ophthalmology, is cited: "Neuro-ophthalmology is like a harp, every orchestra needs one, but not all the time."[1] Regarding the clinical daily work this should be assented. However, basic knowledge and skills in neuro-ophthalmology are necessary to care for a patient with neuro-ophthalmological signs as these can be index symptoms of acute and severe cerebral and ocular diseases. With this competency, a rational rapid and straightforward diagnostic procedure can be initiated. In addition, neuro-ophthalmological findings are of high neuro-topographical value, so to speak they allow a view in the brain through the window of clinical neuroanatomy. A typical example is the internuclear ophthalmoplegia which indicates a lesion of the medial longitudinal fasciculus (MLF).[23] Some neuro-ophthalmological findings are highly indicative or even pathognomonic for systemic diseases such as impaired vertical saccades in Niemann–Pick disease.[4]
Thus, the basal neuro-ophthalmological examination is very important comparable to the basal neuro-otological examination[5] supplementing the general clinical neurological examination where necessary. The aim of this paper is to present a practical concept of such a basic neuro-ophthalmological examination which can be performed easily in the accident and emergency unit and medical practice without being time-consuming or requiring expensive technical equipment. This contribution replaces in no way the current excellent reviews and standard books of clinical neuro-ophthalmology.[1678910]
D
ISCUSSION
The great value of an accurate clinical neuro-ophthalmologic examination is that clinical findings can be correlated well with the localization of the lesion. In other words, the result of the examination gives an answer to the primordial question in clinical neurology "where is the lesion." As a rule of thumb disturbances of the vertical eye movements indicate a dysfunction at the midbrain level and disturbances of the horizontal eye movements a dysfunction of the pontine brainstem. The syndrome of internuclear ophthalmoplegia allows the assumption of a lesion of the longitudinal medial fascicle which connects the nuclei of the optomotor nerves in the paramedian pons near the aqueduct. Hemianopic visual fields point to a retrochiasmatic lesion of the visual pathway. A sudden monocular blurred vision requires a particular view on the ipsilateral internal carotid artery. It is highly interesting that in single conditions a neuro-ophthalmological finding such as the impairment of vertical saccades can be pathognomonic for a systemic disease such as Steele-Richardson-Olszewski syndrome or the Niemann–Pick disease while abnormalities of the horizontal saccades can be pathognomonic for Gaucher disease. Niemann–Pick disease can be treated nowadays after early diagnosis.[4] In headache of different origin, the neuro-ophthalmological status is of outstanding importance. Together with the headache history the clinical findings identify the red flags of headache and guide the diagnostic process [Table 2].[7778]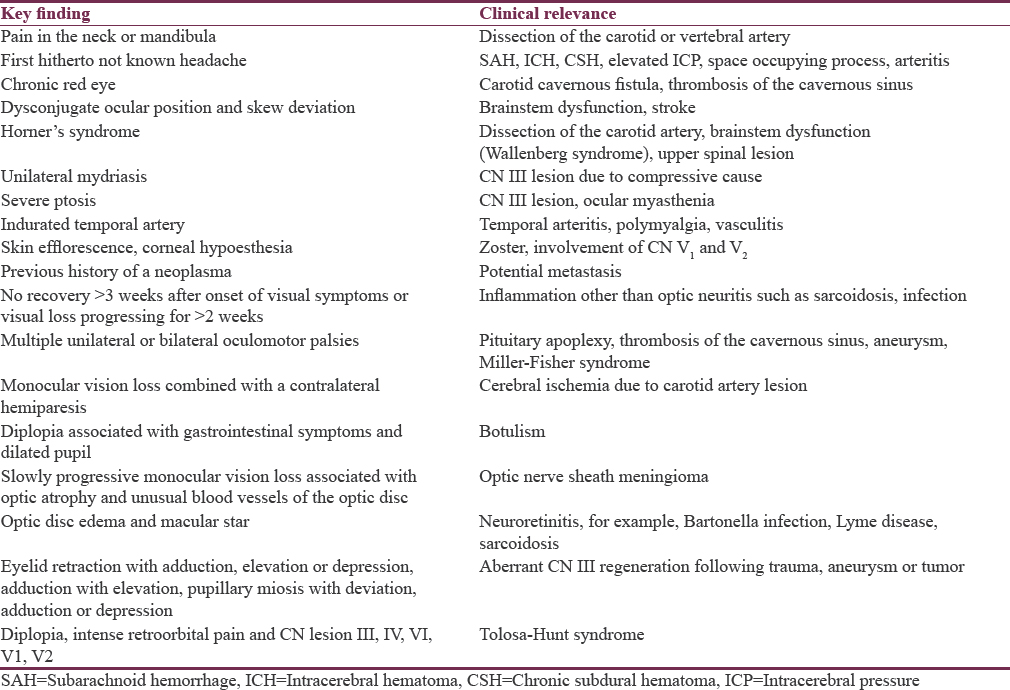 In the general neurological emergency medicine, the neuro-ophthalmological examination is of great value as its findings enable a sophisticated deduction and a judicious use of technical investigations.[79] For instance vestibular nystagmus in the context of a harmonic vestibular syndrome allows diagnosis of acute vestibulopathy or the findings of "Head Impulse, Nystagmus, Test of Skew" are helpful in the diagnosis of an acute stroke of the posterior circulation.[5]
The neuro-ophthalmological examination can be rapidly done, needs little instrumental equipment [Figure 2] and can thus guide more sophisticated diagnostic investigation such as brain imaging, lumbar puncture and additional tests.[808182] However, it is difficult to acquire examination competency in neuro-ophthalmology. Besides studying the anatomical and physiological background, intensive clinical exercises are mandatory to familiarize the examiner with this field of clinical medicine. Modern audiovisual aids – meanwhile available through the internet – can be very useful in teaching clinical neuro-ophthalmology. Step by step demonstrations and instructive case vignettes of basic knowledge and practical skills can be conveyed to the interested self-taught learner.[2449838485] Special "clinical image"-sections in scientific journals support the learning process.[43868788899091] In recent years, medical education curricula increasingly emphasize the learning of practical skills such as the neurological examination including the neuro-ophthalmological examination or the ophthalmological exam.[92939495] In our view, this general trend of more practical teaching at the medical schools should be supported with emphasis. By this way, diagnosis in clinical medicine can be made easier and more cost-effective. Regarding practical skills, unfortunately, the competency of direct fundoscopy is discussed and a demise of direct ophthalmoscopy is feared.[64] Technical improvement such as the "PanOptic"-ophthalmoscope may ease the learning process of ophthalmoscopy and actually enable a broader view on the ocular fundus.[96] Recently, the nonmydriatic digital fundus photography was developed and judged to be more sensitive than direct ophthalmoscopy in several settings. It can be feasibly performed in the emergency situation and improve neurological and cerebrovascular diagnosis.[66] Its costs should markedly decrease as it can be applied meanwhile with a smartphone.[67] It is of interest that methods which were sparsely used in the last years, now have a certain renaissance such as the optokinetic nystagmus testing by a drum.[76] This test is very easy to perform and gives valuable information on the patient's capacity of smooth pursuit and reset saccades horizontally and vertically. Thus a number of neuro-ophthalmological disorders can be detected early in the course of the disease. In how far new technical methods such as the video-oculography, the scanning laser Doppler flowmetry, laser scanning tomography or optical coherence tomography may find their way into routine clinical neuro-ophthalmological praxis even in countries with lower income remains unsettled.[39979899]
The statement of the Nestor of modern neuro-ophthalmology W. F. Hoyt comparing the neuro-ophthalmology with a harp, which is necessary for every orchestra but not at all times, is confirmed by our experience. Clinical competency in neuro-ophthalmology is not always mandatory in every neurological patient. However, if clinical neuro-ophthalmological competency is available in caring for patients with neuro-ophthalmological disorders a straightforward diagnostic process can be initiated generating a viable working diagnosis and applying cost-extensive methods considerately.[100] It is, therefore, a pleasing development that in a number of developing countries the importance of neuro-ophthalmology is acknowledged leading to the foundation of neuro-ophthalmological units.[101102103]
Declaration of patient consent
The authors certify that they have obtained all appropriate patient consent forms. In the form the patient(s) has/have given his/her/their consent for his/her/their images and other clinical information to be reported in the journal. The patients understand that their names and initials will not be published and due efforts will be made to conceal their identity, but anonymity cannot be guaranteed.
Financial support and sponsorship
Nil.
Conflicts of interest
There are no conflicts of interest.
R
EFERENCES
Klinische Neuroophthalmologie.

Stuttgart:

Thieme Verlag

; 1998.

Dtsch Arztebl Int

. 2011;108:

197

-

204

.

Central oculomotor disturbances and nystagmus: A window into the brainstem and cerebellum.

Pract Neurol

. 2017;17:

149

-

53

.

Internuclear ophthalmoplegia.

J Neurol

. 2014;261(

Suppl 2

):

S542

-

58

.

Central ocular motor disorders, including gaze palsy and nystagmus.

J Neurosci Rural Pract

. 2015;6:

272

-

6

.

Acute dizziness in rural practice: Proposal of a diagnostic procedure.

Handb Clin Neurol

. 2011;102:

71

-

94

.

The neuro-ophthalmological examination.

Clinical Neuro-Ophthalmology.

Berlin, Heidelberg:

Springer

; 2007.

Walsh & Hoyt's Clinical Neuro-Ophthalmology: The Essentials

(

3rd ed

). Alphen aan den Rijn:

Wolters Kluwer

; 2016.

Neuro-Ophthalmology Illustrated.

Stuttgart:

Thieme

; 2015.

Neuro-Ophthalmology: What do I do now?.

Oxford and New York:

Oxford University Press

; 2012.

Klin Monbl Augenheilkd

. 2017;234:

1344

-

7

.

Neuro-ophthalmological history taking.

Neurology

. 2014;83:

e89

-

94

.

Clinical reasoning: A 42-year-old man who developed blurred vision and dropped his iPod while jogging.

Community Eye Health

. 2012;25:

2

.

Understanding low vision.

New Engl J Med

. 2000;343:

556

-

62

.

Blurred vision.

Klin Monbl Augenheilkd

. 2008;225:

R1

-

11

.

Pupils – Disorders and their diagnosis.

Klin Monbl Augenheilkd

. 2010;227:

845

-

51

.

Pupillary disorders – Diagnosis, diseases, consequences.

Klin Monbl Augenheilkd

. 2010;227:

862

-

3

.

Internal ophthalmoplegia: First sign of compressive third cranial nerve palsy?

Neuroradiology

. 2003;45:

85

-

7

.

Simultaneous involvement of third and sixth cranial nerve in a patient with lyme disease.

Cerebrovasc Dis

. 2003;16:

109

-

10

.

Achard-Lévi syndrome: Pupil-sparing oculomotor nerve palsy due to midbrain stroke.

Acta Neurol Belg

. 2017;117:

743

-

4

.

Oculomotor nerve palsy and diffuse large B cell lymphoma.

Z Prakt Augenheilkd

. 2014;35:

119

-

22

.

Was tun bei Horner-Syndrom?

Dtsch Med Wochenschr

. 2000;125:

1333

-

6

.

Dissection of extracranial arteries supplying the brain.

Neurohospitalist

. 2016;6:

42

.

Horner syndrome and thoracic disc herniation.

Ophtho Book: The Free Eye Book and Lecture Series

.

J Optom. 2014;7:106-7.

Bilateral tonic pupils secondary to Ross syndrome: A case report.

J Emerg Med. 2014;47:84-5.

Cosmetic mydriasis.

Pract Neurol. 2011;11:332-40.

Ptosis.

Neurol Sci. 2016;37:1589-96.

Approach to a patient with blepharoptosis.

Z Prakt Augenheilkd. 2006;27:433-40.

Myasthenia gravis in ophthalomological practice.

Ophthalmologe. 2013;110:471-80.

Ocular myasthenia gravis.

New Engl J Med. 2015;372:428-36.

Ischemic optic neuropathies.

Ophthalmologe. 2016;113:967-81.

Optic disc swelling: A compilation of relevant differential diagnoses.

Am J Ophthalmol. 2008;146:700-6.

Intravenous thrombolysis with low-dose recombinant tissue plasminogen activator in central retinal artery occlusion.

Lancet Neurol. 2005;4:209.

The neuro-ophthalmology of multiple sclerosis.

Dtsch Arztebl Int. 2015;112:616-25.

The diagnosis and treatment of optic neuritis.

Clin Neurol Neurosurg. 1999;101:189-92.

Progression of optic neuritis to multiple sclerosis: An 8-year follow-up study.

Ann Acad Med Singapore. 2001;30:143-7.

The eye in neurology: Evaluation of sudden visual loss and diplopia – Diagnostic pointers and pitfalls.

J Neurosci Rural Pract. 2014;5:340-8.

Neurogenic vision loss: Causes and outcome. An experience from a tertiary center in northern India.

J Neurol Neurosurg Psychiatry. 2003;74:149.

Vasospastic amaurosis fugax.

Insight. 1996;21:92-5.

Taking a history of the patient with diplopia.

Klin Monbl Augenheilkd. 1999;214:346-50.

Diplopia: From symptom to diagnosis.

Continuum (Minneap Minn). 2014;20:942-65.

Diagnostic approach to diplopia.

Neurology. 2007;69:E35-40.

Pearls and oysters of localization in ophthalmoparesis.

Rev Neurol (Paris). 2012;168:720-8.

How to deal with diplopia.

Klin Monbl Augenheilkd. 2012;229:1145-53.

Nonparetic strabismus 1.

N Engl J Med. 2007;356:1040-7.

Clinical practice. Pediatric strabismus.

De Myer's the Neurologic Examination, a Programmed Text (6th ed). New York: McGraw Hill; 2011.

Semin Neurol. 2007;27:244-56.

Oculomotor disorders.
Performing a Standard Eye Examination in Neurology. Eye Movement Disorders Information Center.

Clarke C, Howard R, Rossor M, Shorvon S, eds. Neurology: A Queen Square Textbook. Oxford: Blackwell; 2009. p. 75-107.

The language of neurology: Symptoms, signs and basic investigation. In:

Klin Monbl Augenheilkd. 2017;234:1348-53.

Acute diplopia: Differential diagnosis and treatment options.

Optom Clin. 1996;5:53-76.

Neurogenic diplopia: Paralysis of cranial nerves III, IV, and VI.

Front Neurol. 2017;8:429.

Clinical approach to supranuclear brainstem saccadic gaze palsies.

Parkinsonism Relat Disord. 2014;20:226-9.

Slowing of number naming speed by King-Devick test in Parkinson's disease.

J Neurol Sci. 2014;343:105-9.

The King-Devick (K-D) test of rapid eye movements: A bedside correlate of disability and quality of life in MS.

Lancet Neurol. 2014;13:1006-16.

The neuro-ophthalmology of head trauma.

J Neurol Sci. 2017;372:393-8.

Mobile universal lexicon evaluation system (MULES) test: A new measure of rapid picture naming for concussion.

J Clin Mov Disord. 2015;2:14.

The diagnostic value of saccades in movement disorder patients: A practical guide and review.

Eur J Neurol. 2009;16:1265-77.

Internuclear and supranuclear disorders of eye movements: Clinical features and causes.

Klinisch-Neurologische Untersuchungstechniken. Stuttgart: Thieme Verlag; 2012.

J Clin Neuroophthalmol. 1992;12:47-56.

Reflex blink to visual threat.

Neurology. 2011;76:1192-3.

Diagnostic accuracy of confrontation visual field tests.

J Neurosci Rural Pract. 2017;8:683-4.

Papilledema: A comprehensive assessment.

Neurol Clin Pract. 2015;5:150-7.

The demise of direct ophthalmoscopy: A modern clinical challenge.

Neurol Clin Pract. 2013;3:527-31.

Nonmydriatic retinal photography in the evaluation of acute neurologic conditions.

Ann Emerg Med. 2013;62:28-33.

Diagnostic accuracy and use of nonmydriatic ocular fundus photography by emergency physicians: Phase II of the FOTO-ED study.

Ophthalmology. 2012;119:432-33.

Smartphone fundoscopy.

JAMA Neurol. 2015;72:455-9.

Nonmydriatic ocular fundus photography in neurologic emergencies.

Ther Umsch. 1996;53:31-6.

Vision disorders in retrochiasmatic lesions of the visual pathways.

Klin Monbl Augenheilkd. 2009;226:R51-70.

Central vision disorders – Visual phenomena caused by lesions of the primary visual cortex and associated regions.

Ophthalmologe. 2009;106:277-87.

Higher visual disorders.

Ann N Y Acad Sci. 2015;1339:165-75.

Combination of attentional and spatial working memory deficits in Bálint-Holmes syndrome.

The Neurology of Vision. Oxford: Oxford University Press; 2001.

Graefes Arch Clin Exp Ophthalmol. 2016;254:1637-42.

Charles Bonnet's syndrome: Not only a condition of the elderly.

J Rheumatol. 2004;31:1754-5.

Utility of red Amsler grid screening in a rheumatology clinic.

Am Orthopt J. 2014;64:1-10.

Is there a role for optokinetic nystagmus testing in contemporary orthoptic practice? Old tricks and new perspectives.

Headache. 2013;53:703-16.

Headache medicine meets neuro-ophthalmology: Exam techniques and challenging cases.

Can J Ophthalmol. 2013;48:3-7.

Big red flags in neuro-ophthalmology.

Pract Neurol. 2011;11:191-200.

Neuro-ophthalmology.

Neurohospitalist. 2015;5:223-33.

Neuro-ophthalmological emergencies.

Neurologist. 2005;11:195-233.

Neuro-ophthalmic emergencies for the neurologist.

Acta Neurol Belg. 2013;113:215-24.

Neuro-ophthalmological emergencies: Which ocular signs or symptoms for which diseases?

Ebrain: An e-learning resource supporting training in the clinical neurosciences

.

Available from http://www.ebrain.net/

Neurology. 2008;70:e20.

Teaching neuroImage: One-and-a-half syndrome.

Neurology. 2014;83:e58-9.

Teaching neuroImages: Unmasking raccoon eyes: A classic clinical sign.

N Engl J Med. 2013;368:e3.

Images in clinical medicine. Bilateral internuclear ophthalmoplegia in multiple sclerosis.

N Engl J Med. 2015;372:e34.

Images in clinical medicine. Ping-pong gaze.

Lancet. 2003;362:1958.

Cavernous sinus thrombosis.

Neurology. 2000;54:1839.

Neuro/Images. Kayser-Fleischer corneal ring.

Eur J Neurol. 2008;15:1365-70.

Effects of peer-assisted training during the neurology clerkship: A randomized controlled study.

Fortschr Neurol Psychiatr. 2009;77:32-7.

OSCE in the neurology clerkship. Experiences at the neurological department of the university hospital Erlangen.

Pract Neurol. 2013;13:49-50.

Introducing neurological examination for medical undergraduates – How I do it.

Surv Ophthalmol. 2016;61:83-94.

A systematic review of best practices in teaching ophthalmology to medical students.

Emerg Med J. 2012;29:1007-8.

Optic disc assessment in the emergency department: A comparative study between the PanOptic and direct ophthalmoscopes.

Neurology. 2004;62:1221-3.

Laser scanning tomography of the optic nerve vs CSF opening pressure in idiopathic intracranial hypertension.

J Neurol. 2014;261:1251-6.

Neuro-ophthalmology update.

Front Neurol. 2017;8:493.

The contribution of optical coherence tomography in neuromyelitis optica spectrum disorders.

Eur J Radiol. 2004;49:31-63.

Neuroophthalmology: A brief Vademecum.

Niger J Clin Pract. 2007;10:147-51.

Pattern of neuro-ophthalmic disorders in a tertiary eye centre in Nigeria.

Klin Monbl Augenheilkd. 2013;230:1095-6.

Who needs neuro-ophthalmology?

J Neuroophthalmol. 2013;33:e11-2.

Neuro-ophthalmology in Malawi.
Show Sections