Translate this page into:

doi:
10.1055/s-0042-1744470
Is Thalamic Lesion a Contributing Factor for Inappropriate Sexual Behavior in Older Adults with Cognitive Impairment?
Address for correspondence Krishna Prasad Muliyala, MBBS, MD Department of Psychiatry, National Institute of Mental Health and Neurosciences Bengaluru 560029 India krishnadoc2004@gmail.com
Journal of Neurosciences in Rural Practice
Licence
This is an open access article published by Thieme under the terms of the Creative Commons Attribution-NonDerivative-NonCommercial License, permitting copying and reproduction so long as the original work is given appropriate credit. Contents may not be used for commercial purposes, or adapted, remixed, transformed or built upon. (https://creativecommons.org/licenses/by-nc-nd/4.0/)
Disclaimer:
This article was originally published by Thieme Medical and Scientific Publishers Pvt. Ltd. and was migrated to Scientific Scholar after the change of Publisher; therefore Scientific Scholar has no control over the quality or content of this article.
Abstract
Abstract
Thalamus is a group of nuclei located deep inside the brain, well known for its sensory and cognitive functions. However, its role in the reward and behavior regulation is less explored. In this case series, we have presented four cases with inappropriate sexual behaviors (ISB) that are temporally related to thalamic infarction. We have discussed about the limbic part of thalamus and its extensive connections with other regions in regulating sexual behaviors. Although in all the four cases described there was underlying cognitive impairment that can itself increase the risk of ISB, there was potential contributing role of thalamic lesions.
Keywords
thalamus
older adults
inappropriate sexual behaviors
cognitive impairment
Introduction
Sexual behavior in humans is a complicated process subserved by both central and peripheral nervous systems. Appropriate sexual behaviors are a result of precise balance of reward system and inhibitory processes. Any disturbance in this balance will result in either decreased or increased regulation of sexual behavior. Central nervous system structures mediating sexual behaviors are primarily components of limbic system such as hypothalamus, amygdala, insula, and cingulate cortex. Cortical structure that is involved in regulating the sexual behavior is the prefrontal cortex (PFC), specifically the orbitofrontal cortex (OFC).1 Hypersexual behaviors involving lesions in these structures have been reported secondary to infarcts, traumatic brain injury, and postsurgical interventions.2
Thalamus, a paired gray matter subcortical structure, is made up of a series of nuclei that are responsible for receiving different sensory signals and plays an important role in episodic memory and learning. Although thalamus is important for the reward pathway, as a part of limbic system, its role in sexual behaviors is less explored. A few case studies that explored the role of thalamus in sexual behaviors have reported lesions of ventral thalamus and paramedian nucleus to be implicated in inappropriate sexual behaviors (ISB).3 4 Recent studies have also emphasized the importance of thalamus in regulating PFC and thus controlling sexual behavior.5
In this article, we have presented four cases presenting with inappropriate sexual behaviors following thalamic infarct (Table 1). We have reviewed the available literature on role of thalamus in sexual behavior.
Sl. no

Author, year

Age, sex

Sexual misbehavior

Other features

Imaging finding

Functioning

Major neurocognitive disorder

1

Muller et al,7 1999

NA

Hypersexuality

Hyperphagia, hypersomnia, amnesia, impaired attention

MRI-bilateral thalamic infarcts

PET-hypometabolism in ventral thalami and frontotemporal cortex

Impaired

NA

2

Spinella4 2004

66 years/M

Inappropriate sexual behavior and scatological remarks

Witzelsucht, blunted affect, confabulation, amnesia, hypersomnia, utilization behavior

Thalamic infarct following aneurysm bleed

Impaired

NA

3

Mutarelli et al,3 2006

63 years/M

Hypersexuality and disinhibition

Anterograde amnesia, irritability and hypersomnia

Bilateral thalamic paramedian nucleus infarct. SPECT-bilateral hypoperfusion

Impaired

NA

4

Case A

72 years/M

Inappropriate sexual behavior

Apathy, executive dysfunction, impaired episodic memory, paranoid ideation

Subacute infarct in right thalamus

Impairment in complex and basic activities of daily living

Mixed dementia (AD+ VaD)

5

Case B

62 years/M

Inappropriate sexual behavior

Executive dysfunction, impaired episodic memory, agitation/aggression

B/L thalamic infarct

Impairment in complex activities with preserved basic activities

Vascular dementia

6

Case C

63 years/F

Inappropriate touching

Executive dysfunction, unprovoked aggression, impulsive behaviors, dietary changes

Right thalamic infarct

Difficulty in complex activities

Vascular dementia

7

Case D

93 years/M

Inappropriate sexual behavior

Impaired attention and episodic memory

Left thalamic infarct

Difficulty in complex activities

Mild cognitive impairment
Discussion
The four cases that we have described were older adults, who presented with different types of ISB. The diagnosis was vascular dementia in two patients, one had mixed dementia (AD + VaD) and another had mild cognitive impairment. In addition, all patients had impairment in executive functions. There were three case studies that have reported on thalamic infarct and ISB (Table 1). In the case reported by Müller et al, there was involvement of ventral thalamus that presented as Klüver-Bucy syndrome.7 In the other two cases reported by Mutarelli et al, and Spinella, hypersomnia apart from ISB was reported that was not observed in our patients. In the Mutarelli et al's case, there was bilateral infarct in the paramedian thalamus and in another case by Spinella, there was infarct of the paramedian thalamus secondary to aneurysmal bleed.3 4 In the four cases we presented, three had left thalamic infarct and one had bilateral thalamic infarcts. We have conceptualized the role of thalamus in sexual behavior from the neuroanatomical and lesion-based studies on animal and nonhuman primates. Thalamus is a densely packed aggregation of multiple nuclei. Neuroanatomically thalamus is broadly divided by internal medullary lamina into medial and lateral group of nuclei. Positioned in the anterior and posterior part of thalamus are anterior nucleus and pulvinar nuclei, respectively. In addition, there are intralaminar and reticular nuclei. Closely associated with thalamus are medial and lateral geniculate nuclei. Among these thalamic nuclei, dorsomedial nuclei (DMN) are implicated in behavioral regulation and cognitive functions.
The DMN is the largest of the nuclear structures in the medial thalamus. The vascular supply to DMN is through paramedian branches of the basilar root of posterior cerebral artery. Phylogenetically DMN is most developed in primates, especially in humans. The development of DMN parallels that of prefrontal, association and cingulate cortices in humans. There are four subdivisions of DMN: a magnocellular (mc) subdivision, parvocellular (pc) subdivision, densocellular (dc), and pars multiforms (mf) which form specific connections with cortical and subcortical structures.8
The major outputs of the DMN are to the medial and lateral PFC and OFC. The mc-PFC projections are almost exclusively reciprocal between the mc and the OFC and ventromedial PFC, but there is also a nonreciprocal input from ventrolateral PFC and medial PFC. This cortical–subcortical circuit is involved in attention, executive functions (planning, coordination, strategies, judgement), behavioral inhibition, and initiative. There are also reciprocal connections between the amygdala, hippocampal regions, and DMN.8 9 These circuits are involved in episodic memory, new learning, and recognition memory as shown in Fig. 1.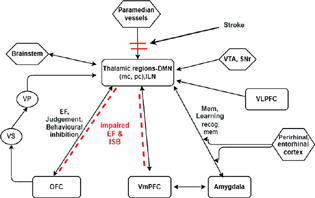 Given the extent of dense reciprocal connections between the DMN and PFC, any insult to thalamus will disrupt these corticosubcortial circuits. There is evidence from the perfusion imaging studies wherein it has been found that in patients with thalamic infarcts there was reduced perfusion in the bilateral PFC.3 Thus, a lesion in the DMN regions will decrease the input to the OFC, thereby reducing the behavioral inhibition and thus presenting as ISB.
The common constellation of symptoms in lesions of DMN includes cognitive symptoms: executive function impairment, episodic memory deficits, and new learning impairment. Behavioral manifestations include sexual misbehaviors, apathy, and confabulation.10 Other less common symptoms are hypersomnia, hyperphagia, preservation, hypophonia, and bilateral upper gaze palsy.10 In all the four cases we have described here, there was no change in sexual preference or any history suggestive of paraphilia. However, an increase in desire and inappropriate expression of sexual behavior that are suggestive of PFC dysfunction secondary to DMN lesion were observed. In the cases we have presented, the contribution of cognitive impairment to ISB cannot be ruled out.
In terms of management, the first step involves education of the caregivers/family members that helps in decreasing their apprehension, stigma, and improving communication. Other nonpharmacological interventions include promoting emotional intimacy between the couple, ensuring privacy through environmental modification, education of family members, distraction techniques, and involvement in activities. The pharmacological treatment needs to be considered in cases with severe ISB. Selective serotonin reuptake inhibitors, mood stabilizers, antipsychotics, and hormonal agents have been tried as treatment for ISB with variable response.11 As there are no randomized controlled studies in this field, treatment needs to be individualized depending on the patient profile and severity.
In older adults presenting with ISB, a thalamic lesion should be considered in the differential diagnosis. In addition to detailed history and clinical examination, neuroimaging should also be considered in these cases. This will help in avoiding inappropriate use of antipsychotics.
Conclusion
Thalamus plays a pivotal role in both cognitive processing and regulation of behaviors. There is a possibility that patients with thalamic infarcts presenting with behavioral manifestations could be erroneously diagnosed with primary psychiatric illness. Clinicians working with older adults need to consider thalamic lesions in their differential diagnosis in patients presenting with ISB and other frontal lobe features. There is merit in considering neuroimaging in these patients' investigative workups.
Conflict of Interest
None declared.
Supplementary Material
Supplementary Material
Show Sections