Translate this page into:

doi:
10.1055/s-0042-1745818
A Case of Dopa Responsive Dystonia Presenting as Isolated Foot Dystonia
1
Department of Neurology, King George's Medical University, Lucknow, Uttar Pradesh, India
Address for correspondence Rajesh Verma, DM, DNB Department of Neurology, King George's Medical University Lucknow, Uttar Pradesh 226003 India drrajeshverma32@yahoo.com
Journal of Neurosciences in Rural Practice
Licence
This is an open access article published by Thieme under the terms of the Creative Commons Attribution-NonDerivative-NonCommercial License, permitting copying and reproduction so long as the original work is given appropriate credit. Contents may not be used for commercial purposes, or adapted, remixed, transformed or built upon. (https://creativecommons.org/licenses/by-nc-nd/4.0/)
Disclaimer:
This article was originally published by Thieme Medical and Scientific Publishers Pvt. Ltd. and was migrated to Scientific Scholar after the change of Publisher; therefore Scientific Scholar has no control over the quality or content of this article.
Dystonia is an important presentation of extrapyramidal disorders, defined as abnormal involuntary sustained or intermittent twisting, curling, or other patterned movements of body parts.1 Inherited dystonias are common in the younger age. Lower limb dystonia refers to dystonic movements and posturing of the legs, foot, and/or toes, usually seen in children.2 Adult-onset focal dystonia usually begins in the craniocervical or brachial region.3 Childhood-onset foot dystonias are almost always generalized. A plethora of associated presentations including myoclonus, chorea, tic, dyskinesias, and mixed-pattern can co-exist. In younger population, foot dystonia may be misdiagnosed as club-foot or psychogenic.
In this report, a 19-year-old girl presents with insidious-onset, gradually progressive abnormal posturing of both feet for 2 months, leading to progressive difficulty in walking. She used to walk peculiarly on her heels with upturned feet sustained in dorsiflexion with slight eversion and hyper-extended great toes (Fig. 1, Video 1). The rest of her examination was normal. There was no clinical evidence of tremulousness, choreiform movements, elicitable null point, sensory tricks, overflow phenomena, or dystonia elsewhere in the body. She was clinically labeled as isolated foot dystonia, started on levodopa trial, and further evaluated. She improved drastically within 4 days of the initiation of dopamine therapy and did not show any treatment-related fluctuations and is living a normal life, presently on dopamine therapy (Video 2). Her laboratory workup, including brain imaging, were normal. Genetic test for DRD confirmed the diagnosis of DYT5 in this case presenting as isolated adolescent bilateral focal progressive foot dystonia.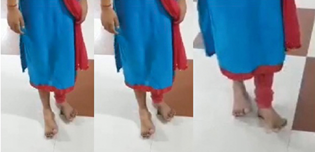 A trial of levodopa therapy should be advocated in every case of young-onset dystonia of any site of onset, irrespective of genetic results. Before the advent of genetics, most of the cases of dystonia were thought to be psychiatric disorders and ignored. In the present era, newer genes are being discovered and potentials explored to relate phenomenology in movement disorder.4
Conflict of Interest
None declared.
Show Sections