Translate this page into:

doi:
10.4103/jnrp.jnrp_273_17
The Current State of Rural Neurosurgical Practice: An International Perspective
Address for correspondence: Dr. Joseph D. Ciacci, Department of Neurological Surgery, University of California, San Diego, 200 West Arbor Drive #8893, San Diego, CA 92103, USA. E-mail: jciacci@ucsd.edu
*
These authors contributed equally to this work
Copyright: © 2018 Journal of Neurosciences in Rural Practice
Licence
This is an open access article distributed under the terms of the Creative Commons Attribution-NonCommercial-ShareAlike 3.0 License, which allows others to remix, tweak, and build upon the work non-commercially, as long as the author is credited and the new creations are licensed under the identical terms.
Disclaimer:
This article was originally published by Medknow Publications & Media Pvt Ltd and was migrated to Scientific Scholar after the change of Publisher.
Abstract
Introduction:
Rural and low-resource areas have diminished capacity to care for neurosurgical patients due to lack of infrastructure, healthcare investment, and training programs. This review summarizes the range of rural neurosurgical procedures, novel mechanisms for delivering care, rapid training programs, and outcome differences across international rural neurosurgical practice.
Methods:
A comprehensive literature search was performed for English language manuscripts with keywords "rural" and "neurosurgery" using the National Library of Medicine PubMed database (01/1971–06/2017). Twenty-four articles focusing on rural non-neurosurgical practice were included.
Results:
Time to care and/or surgery and shortage of trained personnel remain the strongest risk factors for mortality and poor outcome. Telemedicine consults to regional centers with neurosurgery housestaff have potential for increased timeliness of diagnosis/triage, improved time to surgery, and reductions in unnecessary transfers in remote areas. Mobile neurosurgery teams have been deployed with success in nations with large transport distances precluding initial transfers. Common neurosurgical procedures involve trauma mechanisms; accordingly, training programs for nonneurosurgery medical personnel on basic assessment and operative techniques have been successful in resource-deficient settings where neurosurgeons are unavailable.
Conclusions:
Protracted transport times, lack of resources/training, and difficulty retaining specialists are barriers to successful outcomes. Advances in telemedicine, mobile neurosurgery, and training programs for urgent operative techniques have been implemented efficaciously. Development of guidelines for paired partnerships between rural centers and academic hospitals, supplying surplus technology to rural areas, and rapid training of qualified local surgical personnel can create sustainable feed-forward programs for trainees and infrastructural solutions to address challenges in rural neurosurgery.
Keywords
Access to care
feasibility
mobile neurosurgery
neurosurgical training
resource allocation
rural neurosurgery
telemedicine
time to surgery
I
NTRODUCTION
Rural and low-resource areas across the developing world have diminished capacity to care for neurosurgical patient's due to lack of infrastructure, health-care investment, and training programs. Nearly 2 billion people worldwide lack access to even basic surgical services – this problem is compounded when examining the specialized technology necessary for neurosurgical procedures.[1] In 2009, 6.8 million people died from neurological disease including traumatic brain injury (TBI), neurodegenerative disease, and congenital conditions – a number approximating the mortality burden from acquired immunodeficiency syndrome, tuberculosis, and malaria combined. The global economic burden of neurological disease is estimated at 12.3 trillion United States (US) dollars between the years 2015 and 2030 and is rising.[2] Hence, a stable, well-equipped, and well-funded neurosurgical practice and teaching infrastructure is critical to the long-term survival of any health-care system.
Regions in the developing nation have a median ratio of about one neurosurgeon for every 100,000 people;[3] the US ratio is 1:63,000.[4] This ratio drops to one neurosurgeon for every 3,000,000 people in low-income countries; the North Eastern Indian ratio is 1:2,500,000, and the African ratio is 1:4,000,000.[356] Undersupply of neurosurgeons to rural areas is an ongoing issue[367] unsurprisingly neurosurgical capacity is centralized in metropolitan regions, leaving sparse quality and access to rural neurosurgical care.[8] Some factors that prevent surgeons from entering rural practice include lack of preparation for the types of cases presenting to rural regions, compounded by lack of resources, technology, and personnel support required to effectively manage such cases.[9] The dilemma of operating on emergent cases, a large proportion comprising traumatic injuries[6] where "time is brain and/or spine," beyond a neurosurgeon's current skill set is an additional factor barring the entry of younger trainees to the rural setting. On the other hand, rural neurosurgery is not without promise, as the opportunities of clinical triage, surgical management, and critical decision-making can provide rapid training in a relatively condensed timeframe for the motivated and well-supported trainee – hence worthy of further characterization.
The difference in resources and access significantly hinder successful neurosurgical outcomes in rural areas compared to their urban counterparts. Due to the disproportionate distribution of neurosurgical specialists, prehospital transport times are often shorter for patients in metropolitan areas whereas a larger proportion of the rural patients die before reaching advanced medical care.[10] While this may serve as a reason for higher rates of mortality in rural neurosurgical centers, a lack of literature explores this to any detail.[11] The aim of this review is to highlight the common neurosurgical procedures performed in rural settings worldwide, and to evaluate differences in outcome between rural and metropolitan neurosurgical care, to inform infrastructure development, resource allocation, and international awareness for a sustainable and evolving international rural neurosurgical practice.
M
ETHODS
Study selection
The literature search was performed using the National Library of Medicine, PubMed database. To guide our search, we hoped to study all English language manuscripts with the key words "rural" and "neurosurgery" in the title or abstract. The following search criteria were used "([Rural (Title/Abstract)] AND Neurosurgery [Title/Abstract]) AND English (Language)." This search yielded 47 unique articles. Three study authors (P.S.U., J.K.Y., J.Y.) independently reviewed each article and associated references to determine their relevance to the practice of rural neurosurgery, indications for neurosurgical intervention, common neurosurgical procedures, technological advancements, comparative outcomes, or guidelines for emerging approaches. Any discrepancies for determining article inclusion/exclusion were adjudicated by the senior author (J.D.C.).
Of the 47 total articles, 23 were excluded due to inapplicability to the focus of the current study (18 lacked focus on neurosurgery, 3 unrelated to neurosurgical diagnoses, 1 focused on nonrural practice, 1 was purely historical). A total of 24 manuscripts were selected based on the inclusion criteria [Figure 1].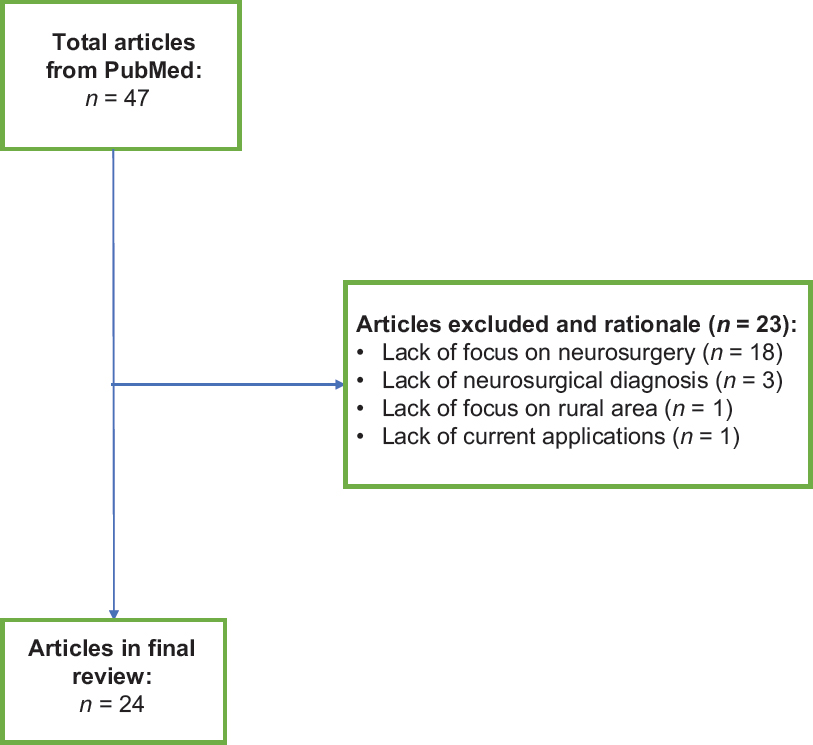 D
ISCUSSION
Worldwide, rural neurosurgery faces numerous challenges. A skewed urban centralization of neurosurgeons, lack of access to state of the art equipment, and long travel times between rural residents and neurosurgically capable hospitals constitute the foremost key issues. However, enormous strides have been made over the past two decades. Novel and rapid training programs have increased the rate of mastery of common neurosurgical procedures, and technological advances have been implemented to bridge communications and triage across vast distances, leading to improved outcomes in rural locales to be in many instances comparable to urban treatment. Our review describes the breadth of these advancements as well as their nuances and implications for the future research and neurosurgical care.
Reduction of time and distance barriers
Time to neurosurgery and distance of transport to appropriate medical center significantly predict mortality and poor outcomes.[212426] The current literature base supports the use of field neurosurgery and employment of emergent neurosurgical techniques in rural settings by medical personnel of sufficient training, when better options, for example, airlift, rapid transport, neurosurgeon on site are unavailable. Telemedicine has demonstrated efficacy in addressing this problem of distance and time. Telemedicine consults can help provide immediate neurosurgical feedback to the rural setting and can help instruct management in real time. This is particularly helpful for emergent indications such as subdural and epidural hematomas among others emergent indications.[1317] Moreover, through outpatient telemedicine consults, neurosurgical expertise can make its way into communities heretofore unreached.[14]
Similarly, mobile neurosurgical units, as deployed in Norway and Australia, allow for initial field evaluation to be made en route to a regional hospital with neurosurgical coverage. This solution incorporates the conventional wisdom that normal healthcare operations often cost patients valuable time, which is only compounded in remote settings. The clear association between time and poor outcomes provides support for programs of mobile neurosurgery as described by Hov, Owler et al., and telemedicine to provide rapid neurosurgical consults as described by Ganapathy and Ravindra, Moya et al., Zanaboni and Wootton, and Angileri et al.[13141617] These programs work to minimize the time before neurosurgical intervention and maximize patient outcomes.
The use of different techniques to decrease time and distance between patient and neurosurgical service is crucial to addressing the challenges of rural neurosurgery. Future studies regarding application to broader settings with different geography and terrains are necessary to determine the worldwide utility of telemedicine and mobile neurosurgical deployment.
Rapid neurosurgical training programs
A second major issue is the lack of neurosurgical training programs and neurosurgeons in rural areas. Most studies in rural communities focused on general surgeons, rather than neurosurgeons, performing neurosurgical procedures. The findings outlined in the outcomes section lend credence to the proposals by Park and Ellegala et al. that describe a shorter neurosurgical training program as the solution to the dearth of neurosurgeons in rural areas.[2223] Although this is a difficult topic to study, comparable outcomes suggest these programs are an ethical method to address the lack of health-care accessibility.
Without extensive training and board-certification, Attebery et al. demonstrate comparable outcomes between non-MD personnel and US neurosurgeons. Non-MD personnel with condensed training can safely perform a variety of common neurosurgical procedures in the rural setting and can serve as the foundation for rural neurosurgical emergencies. As Bishop and Drummond demonstrated through querying the Division of Rural Surgery of the Royal Australasian College of Surgeons, up to 72% of neurosurgical procedures in rural settings were undertaken without attending level supervision. A process of efficient triage to operative care through training general surgeons in basic and emergent neurosurgical procedures may represent an elegant solution to the barrier of neurosurgical expertise in rural areas.
Common rural neurosurgical procedures and associated outcomes
The unique challenges of rural neurosurgery force surgeons to prioritize procedures that are uncomplicated and can provide immediate therapeutic benefit. Factors that would force a surgeon to operate in a resource-poor setting are important considerations. Trauma is the overwhelming mechanism of injury, most likely due to motor vehicle accidents or assault.[25] Understandably, craniotomy/craniectomy, burr hole, hematoma evacuation, and VPS were among the most common procedures from various rural communities from Australia to Sub-Saharan Africa.[32225] These procedures were critical to managing ICP and preventing irreversible neurologic deterioration. Moreover, it is possible to perform these procedures safely without advanced imaging.
Both Kong et al. and Luck et al. showed that time to neurosurgical intervention was a significant predictor of mortality and outcomes.[2426] Rabiu and Komolafe prospective study of a new neurosurgical tertiary care center in Southwestern Nigeria demonstrates a 9.1% mortality rate even without basic diagnostic and/or treatment technology, for example, CT, MRI, and mechanical ventilation.[25] This prospective trial compares favorably to published neurosurgical mortality rates (9.7%) in the Mbarara regional hospital in Uganda[31] and also compares favorably to the mortality rate of 12.5% in rural patients presenting with EDH in Southern Australia.[32] The comparable metropolitan mortality rate for EDH was also 9.7%.[32] These findings show that with basic planning, training and infrastructure, and common neurosurgical emergencies can be managed safely across both rural and regional medical centers, with similar outcomes.
Limitations
Outcomes in rural neurosurgical practice are difficult to study in an ethical manner. Major limitations of this review and the encompassed studies exist, such as small sample sizes, limited prospective studies, and unique challenges faced by various rural areas worldwide. A majority of studies delineate associations between risk factors and outcomes and/or suggest guidelines for improvement. Until formal, consensus-based guidelines are synthesized across working groups and stakeholders, and the large scale adoption of such guidelines occurs, recommendations will likely be limited to small studies in heterogenous populations. Unique challenges faced, such as transportation distances across large nations with sparse populations and access to neuroimaging in new rural centers, warrant targeted solutions which are specific to each community. Thus, another major limitation is a lack of generalizability of the current review's findings to all rural communities.
C
ONCLUSIONS
Protracted transport times, lack of resources and sufficient training, and difficulty retaining specialists are barriers to successful outcomes in rural neurosurgical practice. However, advances such as telemedicine, mobile neurosurgery, and training programs for urgent lifesaving operative techniques have been implemented efficaciously. Development of formal guidelines for paired partnerships between rural centers and university teaching hospitals, supplying surplus technology to rural areas, and rapid stepwise training of qualified local surgical personnel can create sustainable feed-forward programs for trainees and infrastructural solutions to address major setbacks in rural neurosurgery.
Financial support and sponsorship
Nil.
Conflicts of interest
There are no conflicts of interest.
Show Sections