Translate this page into:

doi:
10.1055/s-0041-1724229
Spinal Dermoid and Epidermoid Cyst: An Institutional Experience and Clinical Insight into the Neural Tube Closure Models
1
Department of Neurosurgery, Sanjay Gandhi Post Graduate Institute of Medical Sciences, Lucknow, Uttar Pradesh, India
Address for correspondence Arun K. Srivastava, MCh Department of Neurosurgery First Floor, C- Block (Hospital Building), Sanjay Gandhi Post Graduate Institute of Medical Sciences, Raebareli Road, Lucknow, Uttar Pradesh 226014 India doctorarunsrivastava@gmail.com
Journal of Neurosciences in Rural Practice
Licence
This is an open access article published by Thieme under the terms of the Creative Commons Attribution-NonDerivative-NonCommercial License, permitting copying and reproduction so long as the original work is given appropriate credit. Contents may not be used for commercial purposes, or adapted, remixed, transformed or built upon. (https://creativecommons.org/licenses/by-nc-nd/4.0/)
Disclaimer:
This article was originally published by Thieme Medical and Scientific Publishers Pvt. Ltd. and was migrated to Scientific Scholar after the change of Publisher; therefore Scientific Scholar has no control over the quality or content of this article.
Abstract
Abstract
Objectives The spinal dermoid and epidermoid cysts (SDECs) are rare entities comprising less than 1% of pediatric intraspinal tumors. The present study aims to extrapolate the clinicoradiological data, in order to identify the most plausible neural tube closure model in human and provide a retrospective representation from our clinical experience.
Materials and Methods We collected the details of all histologically proven, newly diagnosed primary SDECs who underwent excision over the past 20 years. Secondary or recurrent lesions and other spinal cord tumors were excluded. Surgical and follow-up details of these patients as well as those with associated spinal dysraphism were reviewed. Clinical and radiological follow-up revealed the recurrence in these inborn spinal cord disorders.
Results A total of 73 patients were included retrospectively, having a mean age of 22.4 ± 13.3 years, and 41 (56.2%) cases fell in the first two decades of life. Twenty-four (32.9%) dermoid and 49 (67.1%) epidermoid cysts comprised the study population and 20 of them had associated spinal dysraphism. The distribution of SDECs was the most common in lumbosacral region (n = 30) which was 10 times more common than in the sacral region (n = 3). Bladder dysfunction 50 (68.5%) and pain 48 (65.7%) were the most common presenting complaints. During follow-up visits, 40/48 (83.3%) cases showed sensory improvement while 11/16 (68.7%) regained normal bowel function. There was no surgical mortality with recurrence seen in eight till the last follow-up.
Conclusions The protracted clinical course of the spinal inclusion cysts mandates a long-term follow-up. The results of our study support the multisite closure model and attempt to provide a retrospective reflection of neural tube closure model in humans by using SDECs as the surrogate marker of neural tube closure defect.
Keywords
spinal cord tumor
spinal dysraphism
dermoid
epidermoid
bladder dysfunction
Introduction
The spinal dermoid and epidermoid cysts (SDECs) are rare ailments, comprising approximately 0.2 to 1% of all spinal tumors.1 We believe that the clinical and radiological details of a congenital disease associated with neural tube closure defect can probably contribute and support the various proposed neural tube closure models. It has been proven that the primary neurulation in human is different not only from avian models but also from other class of mammals like a pig.2 5
The mechanism of the closure of human neural tube was relatively unchallenged till recently and was described as a continuous closure model where the closure begins between the 3rd and 6th somite (future neck area) and thereafter continue bidirectionally in a zipper-like manner toward the rostral and caudal ends. The differential fusion of surface ectoderm and neural ectoderm along with disturbances in their separation leads to mesodermal defects and dorsal inclusion cysts (like epidermoid and dermoid cysts).6 Nearly three decades back, the mechanism of continuous closure model was doubted by a few researchers in this field. Van Allen et al proposed a "multisite closure model," which was further refined by Nakatsu et al in the year 2000 after his splendid work on 68 human embryos from the Kyoto collection.7
Materials and Methods
Inclusion Criteria
This retrospective observational study was conducted in the Department of Neurosurgery, a tertiary care referral center, and the study was approved by the institutional ethics committee (IEC code: 2020–275-IP-EXP-31).
We collected the clinical and radiological details of all histologically proven, newly diagnosed primary SDECs who underwent surgical intervention over the past 20 years, that is, from January 2000 to January 2020.
Exclusion Criteria
Those cases who were found to have the following:
Secondary/implantation dermoid and epidermoid following trauma or repeated lumbar puncture.

Other spinal cord tumors.

Nonconclusive biopsy.

Recurrent and residual lesions.
Methodology
The SDECs indexed with ICD coding 133.00, spinal dysraphism with associated dermoid, and epidermoid indexed with ICD coding 22.00 to 28.00 were recorded. The detailed clinical, radiological, operative and postoperative follow-up data were recorded from the hospital information and record-keeping system. Specific details included: documentation of symptom complex, associated mesodermal defects, neurocutaneous stigmata of spinal dysraphism and associated orthopaedic deformity (if any) at the time of admission and subsequent follow-up visits. As per protocol, all the patients of spinal dysraphism undergo a detail urological assessment which includes cystometrogram, electromyography, and postvoid residual urine measurement in cases who had urinary complaints on admission.
Radiological Assessment
All the included patients had a radiological assessment as MRI of the spine with cranial screening (in the setting of spinal dysraphism). Additional information was gathered from X-ray, ultrasound (US) and CT scan of the spine, in select cases, to document the pathological spectrum of spinal dysraphism.
Surgical Intervention
All the included patients underwent the standard laminectomy or laminoplasty. Lesions which extended longitudinally over a span of three or less vertebral segments were labeled as short while those spanning beyond three as long segment lesions. Patients of spinal dysraphism who had hydrocephalus and associated Chiari malformation were subjected to ventriculoperitoneal shunt. The definitive surgical decompression of inclusion cyst was performed during the same admission. From 2015 onward, we conducted all these surgeries under intraoperative electrophysiological monitoring system (Natus, Ontario, Canada). In a few select cases, the minimally invasive spine surgery (MISS) technique, (Destandeu's technique/microscopic tubular retractor system) was applied. The surgical time as well as blood loss encountered during excision of these lesions were noticed from the operation room record-keeping system.
Postoperative Evaluation
Postoperative assessment of sensory-motor changes, orthopedic deformity/disability, as well as bladder and bowel functions were compared with the preoperative status. The follow-up radiological investigation was performed after 3 months of surgery. Clinical and radiological evaluation with close correlation were conducted in subsequent visits to look for the residual or recurrent lesions.
Statistical Analysis
Statistical analysis was done by using SPSS for Windows software 19.0 (SPSS Inc. Chicago). The parametric data were expressed as mean/median and nonparametric data were expressed as number (n) and percentage. Parametric data were analyzed using t-test, while the categorical data were analyzed using the Chi-square test. The p value < 0.05 was considered significant.
Discussion
Embryological Background
The basic explanation for the SDEC accepted to date is abnormal implantation of ectodermal and/or mesodermal rests during the process of primary neurulation. The primary neurulation in human is a highly organized, rapidly evolving morphogenetic event during the 4th week of gestation.8 10
Continuous Closure Model
So far, the most accepted model is where the closure starts between the 3rd and 6th somite and proceeds in a zipper-like manner. The fusion of dorsal and ventral lips marks the closure of rostral neuropore, which gets completed in the fourth week of gestation, followed by separation of the surface ectoderm from the neural ectoderm.6 The disturbed separation process could lead to abnormal inclusion of surface ectodermal (epidermoid cyst) and/or mesodermal structures (dermoid). The final closure of caudal neuropore occurs at the level of somite 31 (future second sacral vertebra) or 32 to 34 (future third and fourth sacral vertebrae).
Multisite Closure Model
Von Allen et al found that the mouse multi-site neural tube closure model could best explain the human neural tube defect. They proposed the five closure sites for the developing neural tube (Fig. 1).2 Nakatsu et al supported this multisite closure model with major influence from Kyoto Collection of human embryos (Fig. 2).7 11 13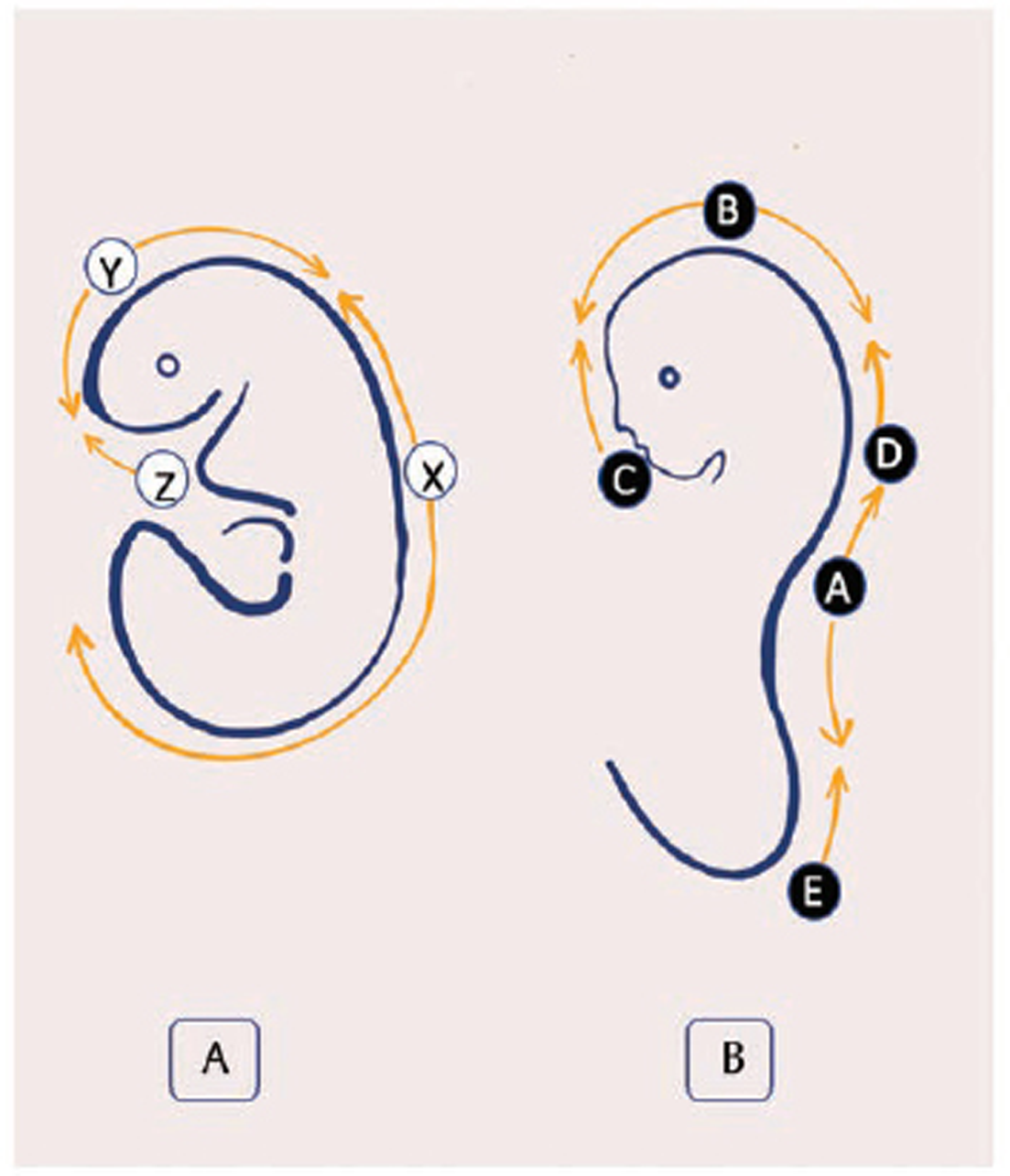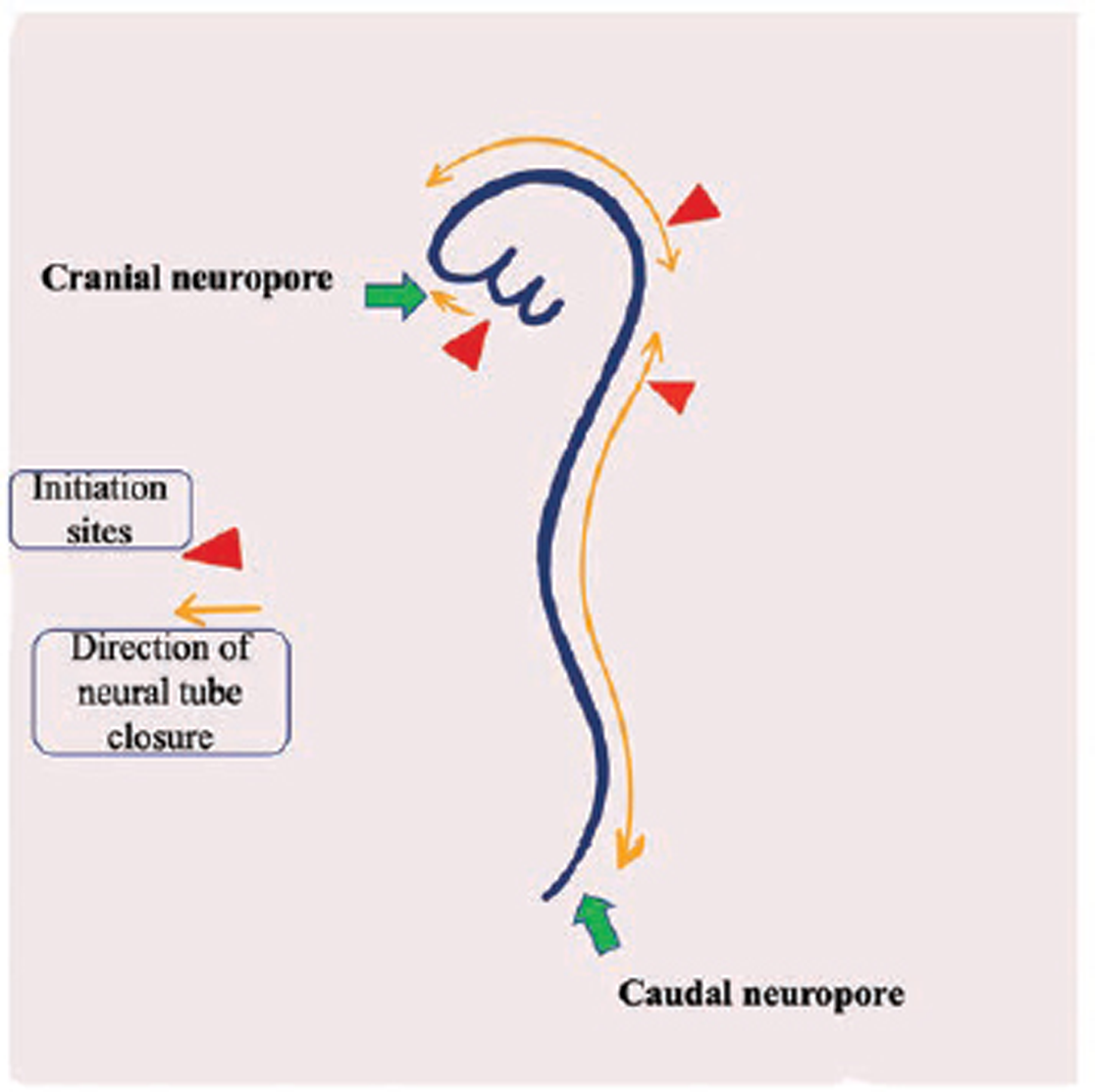 Clinical Extrapolation of Neural Tube Closure Models
The neurocutaneous stigmata and bladder dysfunction serve as clinical markers of underlying spinal cord pathology. The multisite closure model explains some specific sites of this inclusion cyst; mainly, the lower cervical, upper thoracic, thoracolumbar, and lumbosacral regions. The lesion over these sites contribute a major proportion of our cases (n = 46) and therefore seem to be validated by our findings. On the other hand, the sequential events of continuous closure model imply that the outcome of defective closure could be more toward the caudal neuropore (Fig. 3). The clinical findings in our series suggest the lower occurrence of SDEC at S2–S4 (n = 3), which is ~10 times less common as compared with the one at lumbosacral region (L-S1) (n = 30). The defects associated with neural tube closure are clinically more widespread in dermoids as compared with epidermoids.14 15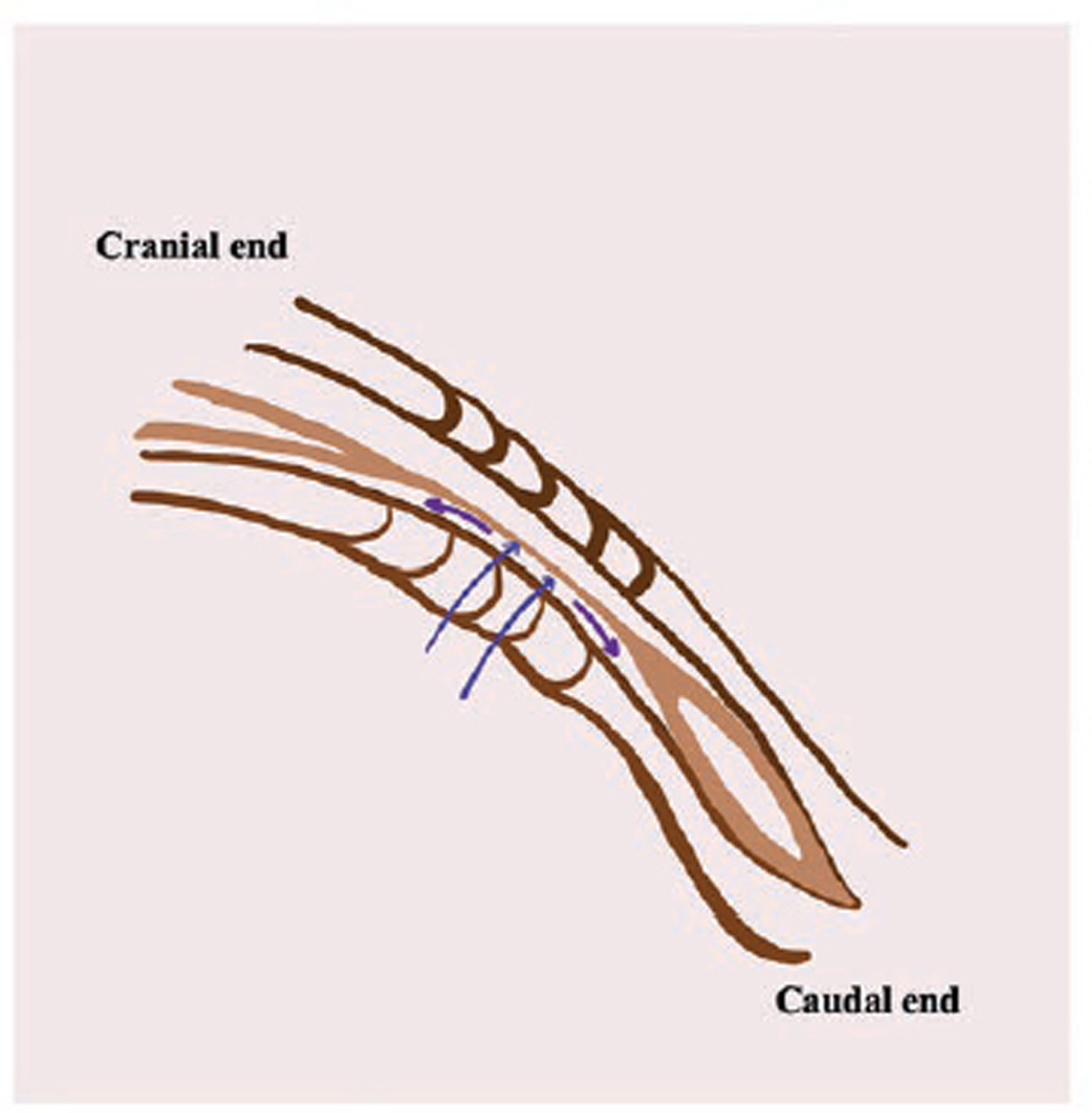 Demographic and Clinical Spectrum
Dermoid cysts are diagnosed more frequently in the younger age group as compared with the epidermoids.8 16 17 In the present study, 57 patients were symptomatic before the completion of the third decade of life. The present study favors male predominance, which is in conjunction with the available literature.18 Cases diagnosed in early life had obvious clinical conditions like foot deformity and or spinal dysraphism. Bony deformities in the form of hemivertebra and Klippel–Feil syndrome are well documented.19 20 Several case series support the occurrence of spine curvature anomalies in patients of spinal dysraphism.21 23 Pain, being the most common presenting complaints, may be radicular, myelopathic or localized due to dural stretching and altered osteoligamentous biomechanics because of scoliotic deformity.24
The pathology located at intramedullary and thoracolumbar regions manifests early with bladder and bowel complaints. The neurocutaneous markers are often a dependable indicator of an underlying dysraphic state. Discharging or infected sinus drags early attention toward the concealed pathology with dysraphism. The anatomical location and natural growth pattern reveal their clinical picture.22 25 27 In our study, two discharging dermal sinuses were noticed without any rupture. SDECs are distributed in intramedullary, IDEM, extradural and, even, subcutaneous planes or at any point along the dermal sinus tract.28 31 If accidental rupture happens in these SDECs, either spontaneous or during surgery, intense chemical meningitis ensues if extravasation of their contents is not dealt promptly.32 Intracranial extension of cyst material have been reported in literature and basic treatment relies on control the escalating intracranial pressure and avoid ongoing inflammation.
Intraoperative Neurophysiology and Surgical Nuances
The dense adhesion of the cyst wall to the neural structures precludes complete elimination of these lesions from the spinal cord and traversing nerve roots.33 Associated neural tube defects increase the complexity of maneuver due to direct handling of placode, tethered nerve roots as well as the fibrous or bony septum. Patients of Chiari II malformation are prone to develop hydrocephalus as well as tonsillar herniation, and they were subjected to additional surgery before tumor decompression. Although osteoplastic laminotomy decreases the risk of epidural fibrosis, their role in the prevention of spinal deformity is equivocal, as suggested by Wiedemayer et al.34 It is a well-accepted fact that decompression of spinal cord lesion under neuromonitoring has resulted in the better postoperative outcome as compared with those operated without monitoring.35 37 Intraoperative assessment of lower limbs somatosensory-evoked potential (SSEP), motor-evoked potential (MEP) along with spontaneous/stimulated electromyography (EMG) activity in external anal sphincter are considered as the standard of care in modern days.38
The adhered cyst wall remnants act as a nidus for recurrence which indeed is more difficult to treat; being slow-growing pathology, symptomatic recurrence from such lesions involves several years of latency period.39 Spillage of cyst contents due to intraoperative rupture provides a fertile ground for aseptic meningitis to develop.40
There were 83.3% (40/48) sensory improvement and 68.7% (11/16) recovery in bowel function at the time of last follow-up (Figs. 4 and 5). In the present study, more than three-fourth of the cases underwent total excision with a favorable outcome. A low threshold for maximum safe surgical resection should be the goal in these benign lesions where complete eradication is difficult to obtain. Long-term follow-up with annual spine MRI is recommended to diagnose the early recurrence.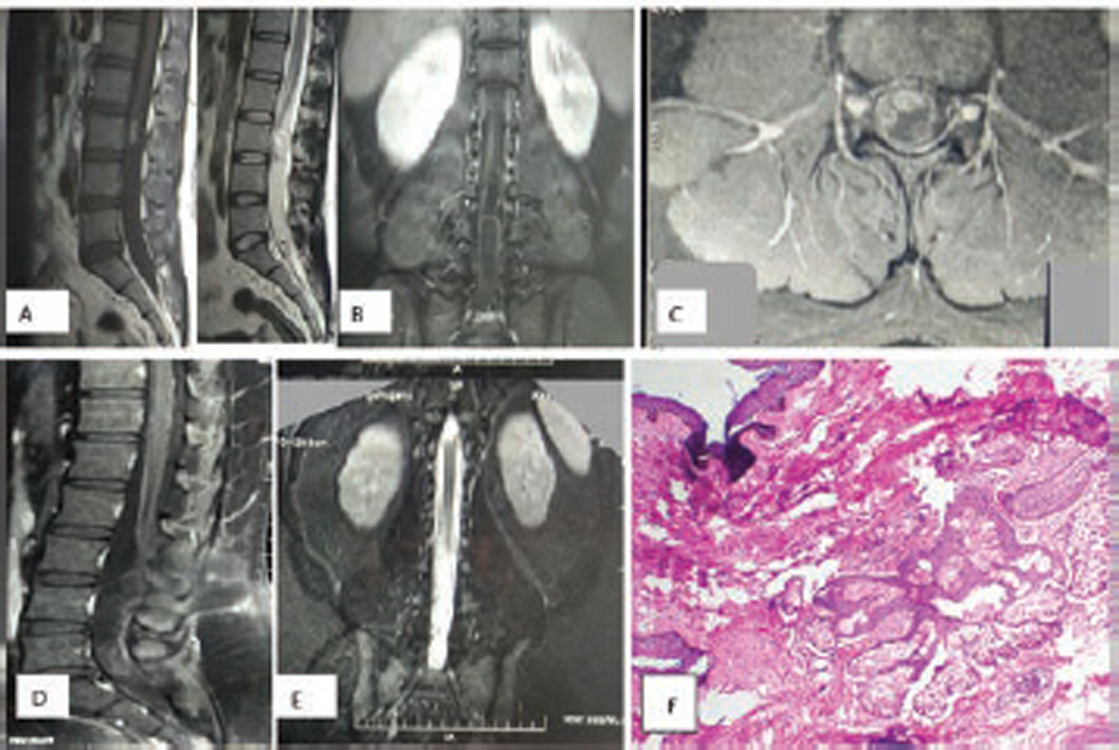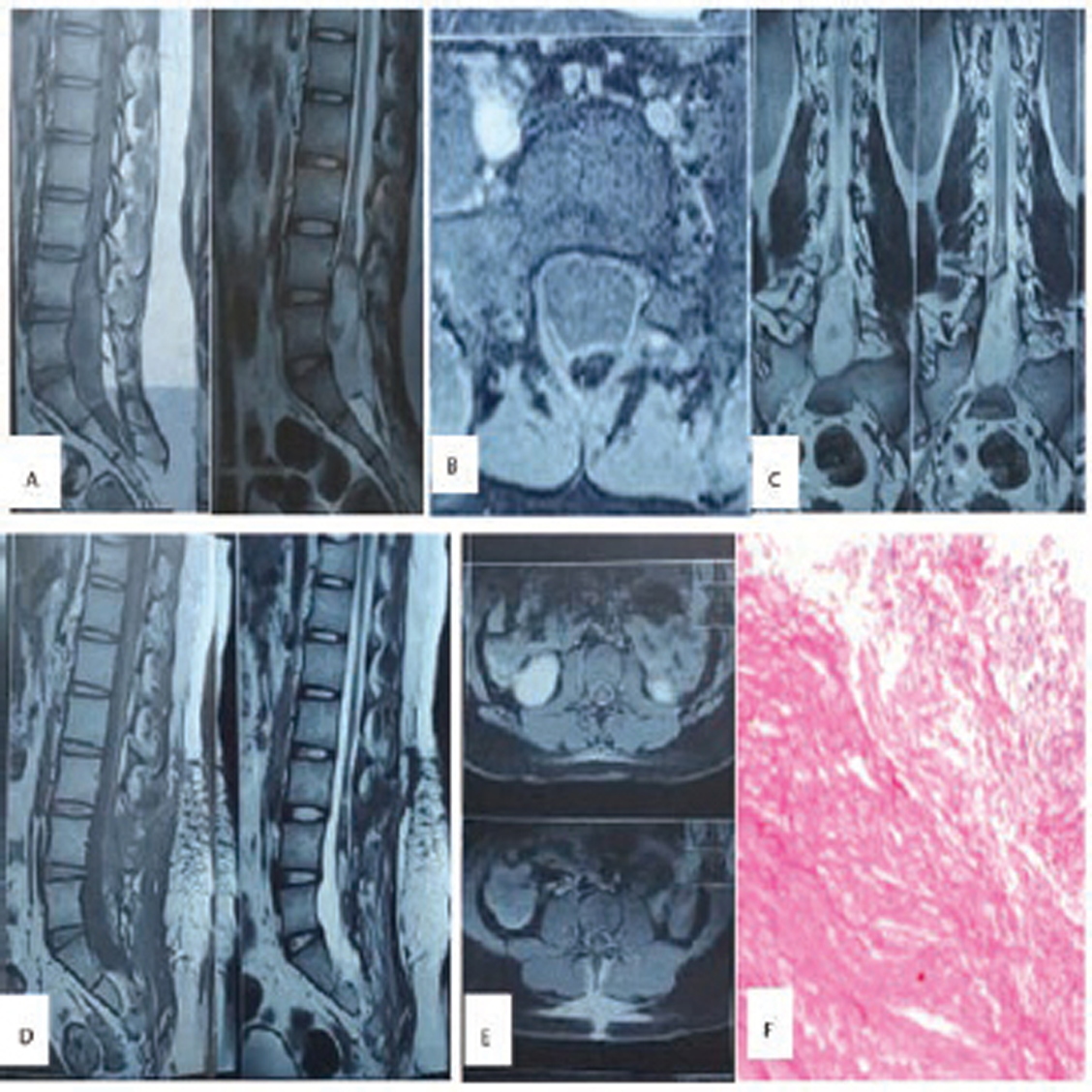 Limitations
The present work is a retrospective observational study, and lost to follow-up is a common occurrence in this duration (20 years), although we did not encounter such problem to greater extent because of meticulous record-keeping system. Subgroup comparison and analysis could have been performed better with a larger sample size, a practical limitation, which mandates a future prospective study.
Conclusion
The spinal inclusion cysts require long-term follow-up to identify the protracted clinical course of the disease. The presence of spinal dysraphism in the background of SDEC increases the complexity of surgical management of these lesions. The results of our study support the multisite closure model and attempts to provide a retrospective reflection of neural tube closure model in humans by using SDEC as the surrogate marker of neural tube closure defect.
Conflict of Interest
None declared.
Show Sections