Translate this page into:

doi:
10.1055/s-0042-1744225
Epidemiological Risk Factors of Suicidal Behavior and Effects of the Components of Coping Strategies on Suicidal Behavior in Medical Students: A North-Indian Institution-Based Cross-Sectional Study
1
Department of Psychiatry, Bhagat Phool Singh Government Medical College for Women, Sonipat, Haryana, India
2
Department of Community Medicine, Bhagat Phool Singh Government Medical College for Women, Sonipat, Haryana, India
3
Department of Literature, Kirori Mal College, New Delhi, India
Address for correspondence Sunny Garg, MD Department of Psychiatry,, Bhagat Phool Singh Government Medical College for Women Khanpur Kalan, Sonipat, Haryana 131305 India docter.sunny@gmail.com
Journal of Neurosciences in Rural Practice
Licence
This is an open access article published by Thieme under the terms of the Creative Commons Attribution-NonDerivative-NonCommercial License, permitting copying and reproduction so long as the original work is given appropriate credit. Contents may not be used for commercial purposes, or adapted, remixed, transformed or built upon. (https://creativecommons.org/licenses/by-nc-nd/4.0/)
Disclaimer:
This article was originally published by Thieme Medical and Scientific Publishers Pvt. Ltd. and was migrated to Scientific Scholar after the change of Publisher.
Abstract
Abstract
Background Mental stresses and adoption of poor coping strategies can be a cause of suicidal behavior in medical students.
Objective The aim of this study is to evaluate the prevalence and risk factors of suicidal behavior, and effects of the components of coping strategies on suicidal behavior among medical students
Methodology An institution-based cross-sectional study was conducted among medical students of a college located in North India for a period of 2 months from February to March 2021. A total of 531 study participants (calculated sample size) were selected, and then allocated proportionally to each academic year, both through stratified random sampling technique. Then, the participants were asked to complete a self-administered questionnaire consisting of sociodemographic characteristics, Patient Health Questionnaire-9, Suicidal Behaviors Questionnaire-Revised (SBQ-R), and coping inventory. A pretest was done to modify the coping inventory and then exploratory factor analysis was performed on it to classify the components of coping strategies. Chi-square test and multiple logistic regression analysis were used to determine the risk factors and their association with suicidal behavior.
Results A total of 104 (19.6%) respondents had reported SBQ-R cutoff score > 7 and had suicidal behavior. The rate of lifetime suicidal ideation, plan, and attempt was 20.3, 10.3, and 2.3%, respectively, among medical students, with 1-year prevalence of suicidal ideation at 33%. The mean age of the participants was 21.26 years (standard deviation = 1.99). The identified risk factors significantly associated with higher suicidal behavior were depression (odds ratio [OR] = 9.6), dissatisfaction with academic performances (OR = 4.9), and coping with mental disengagement (OR = 4.6), while coping with supportive strategies (OR = 0.57) was investigated as a preventive factor for the suicidal behavior.
Conclusion The prevalence of suicidal behavior is found to be highly alarming, revealing that depression and poor coping strategies are risk factors among medical students. The analysis recommends that quantification of the problems, treatment at an early stage, and proactive student counseling to help them embrace the appropriate coping strategies, should be the first steps in prevention of suicidal behavior.
Keywords
coping strategies
depression
factor analysis
medical students
risk factors
suicidal behavior
Introduction
Suicidal behavior is a term incorporating suicidal ideation and its consequences, including suicidal thoughts, plans, attempts, and completed suicide.1 It is a remarkable contributor to the global burden of disease, resulting from complex interconnections of bio-psycho-sociological along with environmental and cultural factors.2 3 The literature concluded that medical workforce of the future are at higher risk of suicidal behavior as compared with students of other courses and the general population.4 Suicidal behavior despite being a paramount public health crisis, is one of the unrecognized concerns in younger medical students.5 It was lamentable for the medical students that they started facing numerous mental stresses at the beginning of their course and became overburdened until their transformation into skilled physicians which enhanced the greater psychological problems.6 7 Medical students with poor mental quality or with poor coping strategies might desert their profession which might lead to suicidal behavior.8 9 10 Recent studies revealed that 1.3 to 32.7% and 1. to –53.6% of medical students experienced suicidal behavior11 and life-time suicidal ideation, respectively.12 It was found that medical students are under overwhelming mental stress, not only related to academic or professional issues, but also chronic nonacademic issues like maladaptive personality and stressful life incidents.13 Previously, it was also established that danger of suicidal behavior increased manifold in medical students with family history of mental illnesses, having had suicidal ideation,14 preexisting psychiatric disorders,15 dissatisfaction with life, decreased self-esteem, and decreased engagement in social dealings.16 17 However, there is limited data available about suicidal behavior and its risk factors in them.5 17 18 A recent study conducted in India18 found that 29.6% of the medical students had suicidal behavior while a previous study showed a higher proportion (53%).5 Given the limited amount of research conducted, more information on suicidal behavior and associated risk factors is necessary in Indian medical students as their recognition at an appropriate time can help in mitigating it and in staging prompt interventions.19
Coping strategies are dynamic processes involving cognitive and behavioral efforts that individuals use to conceptualize the thoughts, feelings, and actions encountered during various stressful conditions, with considerable inter- or intraindividual variability.20 21 There has been concordance that, appropriate coping strategies estimates favorable future outcomes, encompasses higher degree of ego development, higher self-esteem, fewer psychological problems or behavioral problems, and act as a deterrent of suicidal behavior even in the presence of stress22 23 24 while few other studies consistently demonstrated that ineffective coping skills could produce unfavorable emotions and enhance the risk of suicidal behavior during confronted stressful situations.25 26 Furthermore, studies on students suggested that maladaptive coping skills with object of maintaining well-being (such as reducing the negative emotions related to stressors and temporarily alter the focus from stressful conditions to other important things) could arrest the suicidal behavior.25 27 However, the diverse coping skills of medical students to alleviate the suicidal behavior is emphatically pronounced across the globe4 27 28 but the available research in conceptualizing and classifying the distinct coping strategies is inconsistent.27 29 To the best of our knowledge, none of the previous studies have evaluated the suicidal behavior and its risk factors, and different components of coping strategies and their effects on suicidal behavior in medical students in the same study sample, especially in Indian context. Therefore, the present study has endeavored to assess the magnitude of suicidal behavior and the risk factors affecting it, and classifying the dimensions of coping strategies and their influence on suicidal behavior in medical students in an institution located in Northern India.
Methodology
Study Design and Settings
This was a descriptive cross-sectional study, performed on undergraduate and postgraduate medical students of Bhagat Phool Singh Government Medical College for Women and Hospital, an institution located in Northern part of India, conducted from February 2, 2021 to March 29, 2021. Every year, around 100 undergraduates (except first and second academic years where 120 students were enrolled) and 40 postgraduate medical students get admitted to the college. Currently, a total number of 660 medical students are studying in this institution, as shown in Fig. 1. This study was performed after getting ethical approval from the Institutional Ethical Committee Board and in accordance with Ethical Committee standards and the Helsinki Declaration. During the study, the anonymity and confidentiality of the participants were maintained as their personal information, like name or contact, was not asked.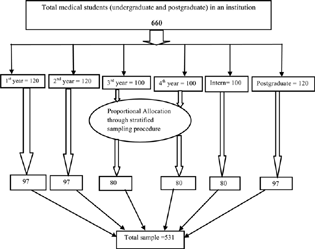 Sample Size
The study's required sample size (N = 531) was calculated by using single population proportion formula. It was calculated on the basis of following assumptions: the prevalence or expected proportion of suicidal behavior (P) is 29.6% as evaluated in previous survey,18 the absolute precision is 4% (d), 95% confidence interval (CI) (Z) where value of Z is 1.96 (constant), and nonresponse rate was also considered to be 5%.

Study Sample
Students from all batches of undergraduate and postgraduate courses, aged 18 years or older (both male and female), able to read and understand English, and willing to give informed consent, were included in the study while medical officers, house-officers, and consultants were not included in the study.
Sampling and Data Collection Procedure
A stratified random sampling method was applied to make the strata of the students of each academic year, and then the total sample size was allocated proportionately to each academic year of undergraduates (1 to 4 and internship) and postgraduates. Finally, computerized generated random number table was used to select and enlist each study participant from different academic years as shown in Fig. 1. The purpose of the study and importance of honest answers were briefed to the participants, and privacy and confidentiality of their information was also assured. Then, questionnaire sheets were distributed to the selected participants by hand in their classrooms before lectures and during breaks, and written informed consent was obtained from them before eliciting the required information. All the respondents were instructed that they could avail any help from the department of psychiatry if they required.
Data Collection Measures
The data was collected by using the self-administered questionnaires which had six sections (A to F), consisting of brief information regarding the study purposes in section A, written informed consent in section B, and about the basic information of students in section C. Section D had Patient Health Questionnaire-9 (PHQ-9) to measure the depression in students. Four questions related to Suicidal Behaviors Questionnaire-Revised (SBQ-R) scale which measured suicidal behavior, formed the section E of the questionnaire. The last part of the questionnaire (section F) had the coping inventory to analyze the coping strategies adopted by students.
Statistical Analysis
The data was entered and analyzed using Statistical Package for Social Sciences SPSS version 25.0 (IBM, Chicago, Illinois, United States). Cronbach's α coefficient was used to assess the internal consistency of the scales. Exploratory factor analysis (EFA), using varimax rotation and principal component analysis (PCA), was performed to unmask the components of these 14 coping items and to assess the construct validity. Factor loadings value of > 0.5 was set for the variables to be a contributing variable in the factor analysis. Categorical variables were calculated as frequencies and percentages, and were compared by chi-square test (or Fisher's exact test where frequency in any cell was less than 5). Continuous variables were calculated as mean and standard deviations, and were compared by independent Student's t-test. Pearson's correlation was used to find out the correlation between suicidal behavior and designated dimensions of coping strategies. Finally, multivariable logistic regression analysis was applied to find out the independent factors by adjusting the variables significant in univariate analysis, and adjusted odds ratios (AORs) and 95% CI were used to evaluate the strength of association between independent factors and suicidal behavior. Statistically significant level was set at p < 0.05 (two-tailed).
Discussion
This descriptive cross-sectional study in an institution located in North India observed that one-third of medical students have suicidal ideation, and one-fifth have suicidal behavior along with few risk factors (dissatisfaction with academic performance and depression) contributing to it. However, exclusive evaluation of suicidal behavior might help in bolstering the well-being of medical students.
In the present study, the magnitude of suicidal behavior (SBQ-R > 7) among medical students was found to be 19.6%, suggesting higher rate among them as compared with general population (10.6 per 100,000 population).35 These findings are in assonance with the observations found in studies done among medical students in India,36 Ethiopia,14 and China27 where the prevalence rate was reported at 16.7, 20.6, and 21.4%, respectively. The reasons of such high prevalence of suicidal behavior could be due to the problems related to studies, families, and friends, and self-centered behavior in the medical students. In contrast to the present study, much higher prevalence of suicidal behavior on SBQ-R was estimated in studies conducted in India18 and Ethiopia,37 29.6 and 28.9%, respectively, while another study conducted in Malaysia38 revealed a much lower prevalence (7%) rate as compared with the present study.
In the present study, the magnitude of suicidal ideation over the past 1 year and lifetime suicidal ideation among medical students was found to be 33.7 and 20.3%, respectively. These findings were in line with a few cross-sectional surveys done in Pakistan,15 Ethiopia,37 and Belgium39 in context to suicidal ideation over the past 1 year, and also, with ones conducted in India18 and China40 in context to lifetime suicidal ideation. In contrast to the present study, much higher prevalence of suicidal ideation over the past 1 year was estimated (53%) in a study conducted in India by Goyal et al5 while a few studies conducted in Ethiopia41 and Oman42 revealed much lower suicidal ideation over the past 1 year than the present study. Additionally, the findings regarding lifetime suicidal ideation observed by a few cross-sectional studies done in Ethiopia (58%)37 and Oman (33%)42 were inconsistent with the prevalence rate revealed in the present study. In other words, the prevalence of suicide plan (10.3%) and attempts (2.3%) in the present study were lower compared with recent studies in India (12.5 and 5.4%)18 and Ethiopia (37.3 and 4.4%).37 Such heterogeneity in the observation could be attributed to diversities in used measurements for suicidal ideation like PHQ and Beck Suicidal Questionnaire which assesses the suicidal ideation for past 2 weeks only, and differences in economic growth, legal system, attitudes, and values.43
Suicidal behavior in the present study population was not influenced by basic characteristics (gender, place of residence, and tobacco/alcohol consumption behavior), similar to a study done by Adhikari et al44 and Torres et al.45 On contrary to present study, a few cross-sectional surveys5 14 pointed out that suicidal ideation was significantly higher in female medical students. Recently, a few authors from Ethiopia41 and Portugal46 established a significant association where alcohol consumption behavior increases more than two times odd risk of suicidal behavior among medical educators, which is incongruent to the findings observed in the present study. Among the basic characteristics variables, only dissatisfaction with academic performance was significantly associated with suicidal behavior in participants which is a finding precisely similar with observations revealed by studies done in Asian countries like Pakistan,15 China,27 and India.36 47 The present study investigated that the propensity of suicidal behavior increased 10 times in medical students who were dissatisfied with their academic performances than their counterparts which was identified as the strongest risk factor of such behavior. This result is in concordance with research showing dissatisfaction with academic performance to be a significant strong risk factor (2–3 times odd risk) for suicidal behavior.15 27 The present study evaluated that the second strongest predictor for suicidal behavior in medical students was depression. Respondents with depressive symptomatology (PHQ-9 score > 10) had 4.9 times higher odd risk of suicidal behavior than those without depression. An analytical cross-sectional study conducted in Malaysia on 657 medical students also established depression as one of the strongest predictors for suicidal behavior (5.9 times higher odd risk).38 Another institution-based cross-sectional study showed that depressed students were 10.1 times more likely to have suicidal behavior than their counterparts.14 Abdu et al observed that multivariable logistic analysis did not confirm the evidence regarding the significant association between suicidal behavior and depression in students.37 Dissatisfaction with academic performance revolves performance in academics, leading to fear of failure in exam and doubts about academic competence, due to which students might have the feelings of worthlessness, hopelessness, and uselessness, that ultimately leads to depression, which could be the possible explanation for increasing risk of suicidal behavior in these students.41 48
Coping Strategies and Suicidal Behavior
This was the first attempt in assessing the possible association between suicidal behavior and the components of coping strategies in medical students. In the present study, it was observed that psychological resilience was the most common coping strategy used by medical students followed by religiosity and humor, and supportive strategy was found to be a significant protective factor while mental disengagement a significant risk factor for suicidal behavior.
A qualitative study49 reported that a spectrum of psychological factors (passive acceptance, active coping, and positive reframing) were the potential contributing factors of psychological resilience, as evaluated in the present study. Previous researches among medical students have shown that enhancing psychological resilience could buffer the influence of negative emotions and have positive effects on psychological well-being as it is a dynamic process involving outcomes, attributes, or process of coping with, adapting to, and rebounding from adverse stressful events.50 51 Recently, few studies52 53 identified that psychological resilience was a significant protective factor against the risk of suicidal behavior, inconsistent to the findings of the present study in which no significant association was revealed between suicidal behavior and psychological resilience. Medical students accepting the problems as a challenge and solving them by distracting themselves with other activities by setting a positive path cognitively could explain the insignificant association between suicidal behavior and psychological resilience. Although having religiosity and humor affiliation was not statistically significant with suicidal behavior, in contrast to expectations, it was found that religiosity and humor as a coping strategy was used by nonsuicidal group of medical students in higher proportion. It was noted that in Brief-COPE scale, the item under "religion" also includes spirituality and under "humor" it was not clearly indicated about the use of either affiliative or self-defeating humor, which could be the possible justification for these items not to be presented as a protective factor against suicidal behavior. Eskin et al54 also found that those who were spiritual but not religious might not have experienced the protection against suicidal behavior. This nonsignificant association with suicidal behavior, similar to the present study, was only observed in a few cross-sectional studies where religiosity and humor were evaluated as a separate entity.27 54
Interestingly, the present study established a significant association between lower risk of suicidal behavior and supportive strategies. In multivariate analysis, students who used supportive strategies had more than half time (AOR = 0.57) lower odd risk of suicidal behavior than those who did not use this component of coping strategy while facing stressful situations. This finding might have suggested that medical students adopted supportive strategies in response to emotional distress, and used supportive strategies as an escape mechanism from negative emotions to alleviate the suicidal risk. Previously in the literature, it was reported that social and emotional support were the protective factors that attenuated the probability of evolution of suicidal behavior in risky cases.55 56 It was revealed that mental disengagement was the only component among coping strategies more likely to be used by suicidal group and significantly associated with the higher risk of suicidal behavior among medical students. In multivariate analysis, students who practiced mental disengagement strategies had nearly five times higher odds of developing suicidal behavior than those who did not exert this strategy. These results reflected that student with high risk of suicidal behavior could have poor problem-solving skills and negative enthusiasm against stressful situations, and symbolized the mental disengagement as a maladaptive strategy to cope with the situations. In assonance with these notions of the present study, a study in China by Tang et al25 also established that students with higher risk of suicidal behavior were found to have increased reliance on maladaptive strategies when they have insufficient resolution of acute stressful incidents and sustained exposure to stressful state of affairs. Consistent with present study findings is what is known, maladaptive strategy as a coping mechanism is ineffectual and worsens the mental well-being of students, and is also a predictor of suicidal behavior.4 27
The main strength of the present study is that this study is, to our awareness, the first to assess the predictive effects and facilitates the understanding of different components of coping strategies on risk for suicidal behavior in medical students by using EFA method. Second, the study also helped in finding the vulnerable groups of medical students by using standardized validated tools with very good internal reliability. Thus, the results observed were intriguing and had effective therapeutic implications in prevention of suicidal behavior among medical students. Lastly, lifetime suicide ideation, suicide plan, and suicide attempt were also analyzed separately in the present study.
The present study also has several limitations. First, this study was cross-sectional and such a study design did not allow the investigation of causal association of outcomes and long-term impact of stressful events on suicidal behavior. Second, this study did not include psychological issues other than depression like anxiety or stress which has been associated with suicidal behavior. This study did not include the other variables like stressful events related to their college life, dependence of substances other than tobacco and alcohol, treatment obtained, and past/family history of psychiatric illness or suicidality, which might have influenced the suicidal behavior. Third, information, selection, recall, and response bias due to the use of self-administered questionnaire cannot be ruled out in the present study. The prevalence and risk factors for suicidal behavior in each academic year were not analyzed separately, which is also one of the major limitations. Finally, the study results of coping strategies could have been impacted due to COVID-19 situation.
Conclusion and Future Suggestions
This study concluded that a high proportion of medical students presented with suicidal behavior. It provides empirical evidence that depression and dissatisfaction with academic performance in students along with the use of mental disengagement as a coping strategy were the risk factors while supportive strategy was the preventive factor for suicidal behavior. It conveys that medical colleges should make concerted efforts early on to perceive depression along with suicidal behavior among medical students and plan accordingly to strengthen their mental health by organizing counseling sessions, seminars, and workshops at an institutional level. The medical educators should provide systemic support to encourage the students which might help in facing the stressful situations during medical education. The government should aim at integration of stress coping strategies and wellness medical curricula to encounter the academic pressure which might help in production of healthy physicians.
Conflict of Interest
None declared.
Show Sections