Translate this page into:

doi:
10.1055/s-0041-1734006
Clinical Spectrum of TGM6-Related Movement Disorders: A New Report with a Pooled Analysis of 48 Patients
1
Department of Pediatrics, Pediatric Neurology Division, All India Institute of Medical Sciences, Rishikesh, Uttarakhand, India
2
Department of Pediatrics, All India Institute of Medical Sciences, Rishikesh, Uttarakhand, India
3
Department of Pediatrics, Post Graduate Institute of Medical Education and Research, Chandigarh, India
Address for correspondence Prateek Kumar Panda, DM Department of Pediatrics, Pediatric Neurology Division, All India Institute of Medical Sciences Rishikesh, Uttarakhand 249203 India drprateekpanda@gmail.com
Journal of Neurosciences in Rural Practice
Licence
This is an open access article published by Thieme under the terms of the Creative Commons Attribution-NonDerivative-NonCommercial License, permitting copying and reproduction so long as the original work is given appropriate credit. Contents may not be used for commercial purposes, or adapted, remixed, transformed or built upon. (https://creativecommons.org/licenses/by-nc-nd/4.0/)
Disclaimer:
This article was originally published by Thieme Medical and Scientific Publishers Pvt. Ltd. and was migrated to Scientific Scholar after the change of Publisher.
Abstract
Abstract
Background Spinocerebellar ataxias (SCAs) are a diverse group of progressive neurodegenerative disorders. Until now, more than 20 genes have been implicated to be associated with this phenotype and TGM6 is one of these genes, associated with spinocerebellar ataxia-35 (SCA-35). The majority of disease-causing variants in the TGM6 gene predominantly have been reported from China and Taiwan and the association with Parkinson's disease (PD) have also been reported recently.
Methods We report the first Indian case with SCA-35 in a 16-year-old-boy with atypical age of onset at 9 years, prominent extrapyramidal features, intellectual disability, and a novel missense mutation in the TGM6 gene. We also reviewed and collated all previously published cases with pathogenic TGM6 variants.
Results Including the index case, 54 cases were identified from 10 relevant articles in literature and 48 cases had adequate clinical details to be included in the pooled analysis. Around two-thirds of reported cases had SCA-35 phenotype, with cerebellar atrophy. Onset in the majority of cases was the fourth decade of life onwards. A proportion of SCA-35 cases also had spasmodic torticollis, impaired proprioception, extrapyramidal features, and myoclonic jerks. The patients with PD had often early-onset milder symptoms, slower progression, and favorable response to levodopa/carbidopa. One patient each presented with episodic ataxia and dystonic tremor of the upper limb. Most of the cases had missense mutations, without any definite hotspot or genotype–phenotype correlation.
Conclusions TGM6 mutation should be suspected in patients with SCA like presentation, especially when it is accompanied by extrapyramidal features, spasmodic torticollis, impaired proprioception, or myoclonus.
Keywords
spinocerebellar ataxia
ataxia
TGM6
SCA-35
cerebellar ataxia
Introduction
Spinocerebellar ataxias (SCAs) comprise a diverse group of progressive neurodegenerative disorders and are considered as a subset of inherited cerebellar ataxias, with the autosomal dominant transmission. Core triad of symptoms in SCA patients includes gait ataxia and incoordination, dysarthria, and nystagmus/oculomotor apraxia.1 Affected patients in specific SCAs may manifest additional features like pyramidal or/and extrapyramidal signs, myoclonus, peripheral neuropathy, cognitive impairment, and ophthalmoplegia. CAG nucleotide repeat expansions are responsible for the majority of SCAs, which encode polyglutamine, and subsequently, produce toxic polyglutamine proteins (poly-Q).2 However, conventional mutations, such as point mutations, deletions, duplications, and frameshift mutations, are responsible for few other SCAs. SCA type 35 (SCA-35) is one such recently described SCA in the Han Chinese and Taiwanese population of East Asia, caused by mutations in the TGM6 gene.3 In recent years, TGM6 gene mutation has been detected in patients with Parkinson's disease (PD) of Chinese origin, episodic ataxia (EA), and dystonic tremors. Pathogenicity of reported mutations by functional assay, including their role in autophagy and α-synuclein production, has been demonstrated.4 5 6 7 8 9 10 11 12 However, outside the East Asia region, only a few cases of SCA-35 have been reported. We are describing the first case of Indian origin with TGM6 mutation of Indian origin with the SCA-35 phenotype. Unlike other reported cases, we had atypical onset from the first decade of life, significant extrapyramidal features, and a novel missense mutation. We also performed a pooled analysis of previously published individuals with TGM6 mutations in the existing literature. An institutional ethical clearance was taken for publishing this report.
Patient Characteristics
A 16-year-old boy firstborn to nonconsanguineous parents, without any adverse antenatal/perinatal events, presented with incoordination while walking and performing other tasks since 9 years of age. Initially, he had frequent falls with gait instability while walking. He had incoordination and often used to miss the target multiple times (undershooting and overshooting), even while approaching to the objects or doing any fine tasks like buttoning or unbuttoning the shirts or holding a pen. There was no history of any diurnal fluctuation of symptoms. For the previous 5 years, the parents observed that the child had tremulous movement of hands and fingers, increasing especially approaching the target object. Furthermore, he developed intermittent twisted posturing of hands for the previous 2 years and slurring of speech for the previous 4 years. On evaluation, the child was found to have appendicular and axial ataxia, dysmetria, dysdiadochokinesia, positive finger-nose test, heel-knee test, and brisk muscle stretch reflexes in lower limbs. He also had horizontal gaze nystagmus and oculomotor apraxia, with saccadic pursuits. Apart from intention tremor, he also had intermittent dystonic posturing of upper limbs. Neuroimaging of the brain revealed cerebellar atrophy (Fig. 1). Antibody against GAD65 and antitissue transglutaminase (TG) in the child was negative. His full-scale intelligence quotient (IQ) was 68, although his verbal IQ was better than his performance IQ, probably due to incoordination. His tandem mass spectrometry, urinary organic acid profile, serum prolactin, serum α-fetoprotein, immunoglobulin levels, blood, and cerebrospinal fluid lactate levels, and serum vitamin E levels were normal. Nerve conduction study and ophthalmological evaluation were also normal. He was started on trihexyphenidyl, levodopa/carbidopa, vitamin E, and different cofactors required for mitochondrial biosynthesis pathways without any observed clinical response. The informed consent of the parents was obtained for genetic analysis and publication of this report.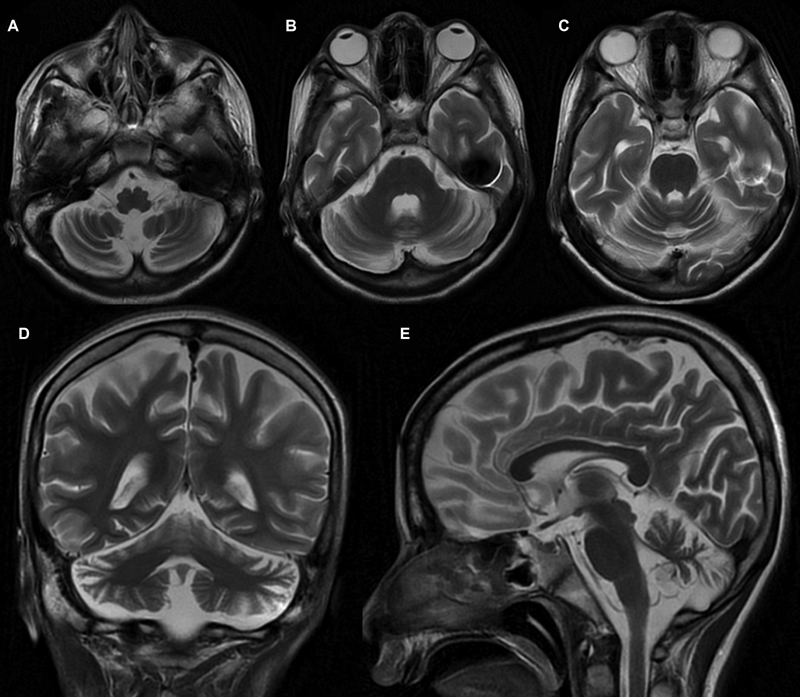 Genetic Testing
Genomic DNA was isolated from the patient sample and in situ hybridization of the coding exons and flanking intronic regions of the whole genomic DNA of the affected case was performed. Using next-generation paired read sequencing (using the Illumina NextSeq system, Eurofins-Emory Genetics Labs, United States), direct sequencing of the amplified and captured regions was performed. Low coverage regions, if any, are limited to 2 to 5% or less of the exons/nucleotides included in this panel. Sanger sequencing confirmation of the reported variants was also performed. Alignment to the reference human genome hg19/GRCh37 was performed using ECGIVarSure pipeline (ECGI [Eurofins Clinical Genetics India] bioinformatics pipeline) for data mapping, QC, variant calling, and annotation of variants with external and internal data sources. The analyzed region included the coding exons and ± 10bp of flanking intronic region on both sides of each exon, for each transcript listed. Certain deep intronic sites were also targeted. Only variants (SNVs [single nucleotide variants]/small indels) in the coding region and the flanking intronic regions (±10bp) with a minor allele frequency were reported.
Whole-exome sequencing detected a missense variant c.1876G > A (p.V626M) in the TGM6 gene (sequencing coverage of the coding region of the gene is 100%; located on chr20:2411582G > A; Read depth: 139x). The variant was absent in both parents and one available healthy male sibling, suggesting de novo origin and it was confirmed by Sanger sequencing about the presence of this variant in the affected case. Minor allele frequency of this mutation was found to be low in the general population (0.018% ExAC South Asian Frequency, 0.010% gnomAD South Asian Frequency, 0.00% ECGIdb). SCA-35 has been associated with mutations on this gene. Multiple lines of computational evidence (by PolyPhen-2, SIFT [sorting intolerant from tolerant], Mutation Taster2, Mutation Assessor, LRT [Likelihood ratio test]) supported a deleterious effect on the gene or gene product. This variant was classified as pathogenic according to the American College of Medical Genetics and Genomics guidelines for variant interpretation, and appropriate genetic counseling was offered to the parents.
Methods
Search Methods and Eligibility of Studies
In the databases of "PubMed, Scopus and Google Scholar," a systematic literature review (only English language) was performed to find out the previously published individuals with pathogenic TGM6 variants using keywords for "TGM6" and "Spinocerebellar ataxia type-35" and "SCA-35" and "Parkinsonism" and "Cerebellar ataxia" that were in combination with study filters for original research, case series, and case reports. The primary objective of the review was to collate the pooled estimate of the clinical presentation of patients with SCA-35, harboring TGM6 variants. The review also intended to determine the clinical presentation of patients with TGM6 variants, presenting with parkinsonism and to determine abnormalities in neuroimaging and other diagnostic investigations, as well as the presence of any genotype–phenotype relationship in any of the two groups. Accordingly, the inclusion criteria we designed for the review were to include all articles describing at least one case with pathogenic TGM6 variant, irrespective of clinical presentation. The exclusion criteria of the review encompassed the articles describing only cases with variants of uncertain significance in TGM6 variants, inadequate clinical details, and TGM6 variants in nonhuman subjects. To find out the additional citations/manuscripts, we also reviewed the references of the published papers.
Selection of Studies and Data Extraction
All available full texts in literature, that is, papers, reports, and documents were taken. After screening the titles of documents, journal name, year of publication, and name(s) of the author(s), all duplicate items were removed. To select relevant articles and exclude nonrelevant ones, both authors (IKS and PKP) independently studied the articles carefully. Nonhuman studies and review articles were also excluded. On a predesigned case record form, clinical and molecular details of each case/s were noted and later on transferred to a Microsoft Excel spreadsheet.
Outcome Measures
The frequency of various clinical symptoms and signs in patients with SCA-35, apart from the distribution of various demographic variables, was taken as the primary outcome measure. Secondary outcomes were the distribution of those variables in patients with TGM6 mutations with parkinsonism. Other secondary outcome variables were the type and prevalence of various abnormalities in neuroimaging and other diagnostic tests, as well as the presence and type of genotype–phenotype correlations in these subjects.
In the patients with ataxia, Scale for the Assessment and Rating of Ataxia (SARA) was used to describe the severity of ataxia. First developed by Schmitz-Hübsch et al,13 this clinical scale evaluates impairments due to cerebellar ataxia in eight categories or items, with a minimum score being 0 (no ataxia) and a maximum score being 40 (most severe ataxia). The 8 items in this scale are gait, sitting, speech, stance, finger-chase test, heel-shin test, nose-finger test, and fast alternating movements. It is often used as an easily performed alternative to International Cooperative Ataxia Rating Scale, as its daily use is difficult many times due to a large number of assessment items.
Statistical Analyses and Data Synthesis
For categorical variables, frequencies and percentages were used. Standard descriptive statistics including means, standard deviation, median, and interquartile ranges were used for continuous variables. Student's t-test was used for the estimation of normal distribution variables and Wilcoxon rank-sum test was used for variables that did not follow the normal distribution for estimating the differences among comparison groups in continuous variables. Chi-squared test or the Fisher's exact test was used for assessing the differences in categorical variables. Using Statistical Package for the Social Sciences software version 26.0, all statistical analyses were performed.
Results
Twenty-three articles were selected from the systematic search. A total of 54 individuals (from 40 different families) with TGM6 variants were selected from 10 articles after excluding irrelevant articles and duplicate searches and including the clinical details of the case described above.3 4 5 6 7 8 9 10 11 12 Out of these, one was a whole-exome sequencing-based clinical study to identify novel variants responsible for SCA, with a paucity of adequate clinical details, and the six cases identified in this study with TGM6 missense mutations were variants of uncertain significance. Hence, the six cases described in this study were excluded from the final analysis. Out of the 48 patients included in the pooled analysis, 32 patients had SCA phenotype, one had EA2 phenotype, whereas the rest 15 patients of Chinese origin described in a recent study had parkinsonism, without any features of cerebellar ataxia.
Clinical Presentation
Cerebellar Ataxia Phenotype
In summary, out of 33 patients with cerebellar ataxia with TGM6 variants, 18 (54%) were male and the rest were female. Around half of the patients (48%) had onset in the fifth decade, while 12% of patients each had onset in the third, fourth, and sixth decades. Only two (6%) and three (9%) patients had onset of the illness in the first and second decades. The patients were diagnosed after a lag period of median 15 years of illness (range: 3–30 years). All patients had signs of persistent cerebellar ataxia, apart from the one with EA2 phenotype. He had episodes of ataxia lasting for hours together, with spontaneous resolution from 54 years of age and the episodes did not respond to acetazolamide. He also had nystagmus in between the episodes, but no residual truncal ataxia, migraine, or seizures. The demographic profile and clinical presentation of patients with spinocerebellar/EA have been described in Table 1.
| Variable | Frequency (n = 33) |
| --- | --- |
| Males | 18 (54%) |
| Females | 15 (46%) |
| Age of onset | |
|  First decade | 2 (6%) |
|  Second decade | 3(9%) |
|  Third decade | 4(12.1%) |
|  Fourth decade | 4(12.1%) |
|  Fifth decade | 16(48.4%) |
|  Sixth decade | 4(12.1%) |
| Duration of illness in years (median, range) | 15 (3–30) |
| Limb ataxia | 32(97%) |
| Episodic ataxia | 1(3%) |
| Dysarthria | 29(87%) |
| Hand tremor | 27(81.8%) |
| Nystagmus | 18(54%) |
| Saccadic/pursuit aberrations | 8(24%) |
| Spasmodic torticollis | 8(24%) |
| Impaired proprioception | 6(18%) |
| Myoclonus | 3(9%) |
| Epilepsy | 1(3%) |
| Extrapyramidal features | 4(12%) |
| Parkinsonism | 2(6%) |
| Dystonia | 4(12%) |
| Brisk DTRs | 31(93%) |
| SARA at examination | 17.56 ± 8.37 |
Around 87, 81, and 54% of patients had dysarthria, hand tremor, and nystagmus. The average SARA score was 17.56 ± 8.37. Oculomotor apraxia was present in eight (24%) of cases, in the form of saccadic/pursuit aberrations. Other less frequent clinical features include spasmodic torticollis in eight (24%), impaired proprioception in six (18%), myoclonus in three (9%), epilepsy in one (3%), extrapyramidal features in three (9%), parkinsonism in two (6%), and dystonia in four (12%) patients. However, on clinical examination, 31 out of 33 patients had brisk deep tendon reflexes suggestive of pyramidal involvement. One patient presented at 55 years of age with isolated dystonic tremors of the right upper limb for 20 years, which subsequently involved voice and contralateral upper limb. He was tried with multiple medications without any sustainable response including the following drugs, that is, primidone, propranolol, trihexyphenidyl, gabapentin, levodopa, and topiramate. He did not show response to even deep brain stimulation of the ventral intermediate nucleus of the thalamus.
Parkinsonism Phenotype
Among the 15 patients, 9 (60%) were males, who presented with parkinsonism caused by TGM6 variants. A family history of PD was present in eight (53%) patients, although genetic testing was not available for the affected family members in any of the cases. The average age at onset of PD symptoms was 48.3 ± 13.9 years, whereas the average age at diagnosis was 52.7 ± 14.2 years, with an average disease duration of 5.5 ± 3.7 years. The clinical course of parkinsonism in these patients more or less resembled that of cases with idiopathic PD, but with milder symptom severity at onset and more insidious disease progression, over a longer duration. Clinical presentation and demographic profile of patients with parkinsonism phenotype have been described in Table 2.
| Variables | Frequency (n = 15) |
| --- | --- |
| Male | 9(60%) |
| Female | 5(33%) |
| Age at diagnosis (y) | 52.7 ± 14.2 |
| Age at onset (y) | 48.3 ± 13.9 |
| Disease duration(y) | 5.5 ± 3.7 |
| Family history | 8(53%) |
| Initial presenting symptom | |
|  Resting tremor | 8(53%) |
|  Bradykinesia | 7(47%) |
| Prevalence of symptoms at latest follow-up | |
|  Bradykinesia | 15(100%) |
|  Tremor | 14(93.3%) |
|  Rigidity | 12(80%) |
|  Postural instability | 5(33.3%) |
|  Olfactory disorder | 7(47%) |
|  REM sleep behavior disorder | 6(40%) |
|  Depression | 6(40%) |
|  Constipation | 9(60%) |
|  Sexual impotence | 2(13.3%) |
|  Sleep benefit in symptoms | 5(33.3%) |
|  Depression | 6(40%) |
|  Motor fluctuation | 3(20%) |
|  Beck depression inventory score | 9.8 ± 7.0 |
|  Sniffing Stick's test of olfactory function score (mean, SD) | 5.4 ± 2.3 |
|  Mini-Mental State Examination score (mean, SD) | 26.0 ± 5.2 |
|  Epworth sleepiness scale score (mean, SD) | 6.6 ± 5.3 |
|  Unified Parkinson disease rating scale score (mean, SD) | 23.3 ± 9.1 |
|  Stage of parkinsonism Hoehn and Yahr's scale (mean, SD) | 2.3 ± 0.7 |
Resting tremor and bradykinesia were the initial presenting symptoms in eight (53%) and seven (47%) patients, respectively. However, at the time of determination of genetic etiology, most of them had all classical features of parkinsonism, including bradykinesia in all patients, resting tremors in 14 (93.3%) patients, and rigidity in 12(80%) patients. Other less prevalent clinical features described in these patients were as follows: postural instability in five (33.3%), olfactory problems in seven (47%), rapid eye movement sleep-related behavior disorder in six (40%), depression in six (40%), constipation in nine (60%), sexual impotence in two (13.3%), sleep benefit in symptoms in five (33.3%), and motor fluctuation in three(20%) patients. The average Beck depression inventory score of PD patients was 9.8 ± 7.0, average Sniffing Stick's test of olfactory function score was 5.4 ± 2.3, Mini-Mental State Examination (MMSE) score was 26.0 ± 5.2, Epworth sleepiness scale score was 6.6 ± 5.3, unified PD rating scale score was 23.3 ± 9.1, and stage of parkinsonism according to Hoehn and Yahr's scale was 2.3 ± 0.7. Only one case had a significantly abnormal MMSE score. All patients had a favorable response to the levodopa/carbidopa combination. Pramipexole and trihexyphenidyl were also tried successfully in four and one patient, respectively.
Neuroimaging and Electrophysiological Study Findings
Magnetic resonance imaging (MRI) brain was performed in at least one proband from each of the kindreds with SCA-35. Cerebellar atrophy was present in all 17 cases, in whom MRI brain was performed, while two cases had additional atrophy of brain stem. MRI brain was normal in the patient who presented with EA phenotype. One case had subclinical sensory axonal neuropathy involving the sural nerve, along with abnormal somatosensory evoked potential. In contrast to this MRI brain had no significant abnormality in PD patients. But PET brain (dopamine transporter (DAT) imaging with [11C]-2β-carbomethoxy-3β-(4- fluorophenyl) tropane) in PD patients showed a marked reduction of DAT uptake in both caudate nuclei and putamen bilaterally in all probands and fluorodeoxyglucose-positron emission tomography (FDG-PET) brain showed increased metabolism in the thalamus, globus pallidus and putamen. Neuroimaging and mutational characteristics and other laboratory investigations of all 48 cases have been demonstrated in Table 3.
Investigation

TGM6 variants with ataxia (n = 33)

TGM6 variants with parkinsonism (n = 15)

MRI brain

Cerebellar atrophy in all 17 cases, in whom MRI brain was performed (except the one with episodic ataxia), 2 had also atrophy of brain stem

Normal in all the family

PET brain (DAT imaging with CFT)

Not performed

Marked reduction of DAT uptake in both putamen and caudate nuclei bilaterally in all probands

FDG-PET brain

Not performed

Increased metabolism in the globus pallidus, thalamus, and putamen

NCS

Subclinical sensory axonal neuropathy (1)

Not performed

SSEP

Abnormal (1)

Not performed

TGM6 mutation

A missense mutation (29)

Nucleotide deletion (1)

Nucleotide duplication (2)

Splice site mutation (1)

A missense mutation (14)

Splice site mutation (1)
Genetic Mutations
Until now, 39 different variants in the TGM6 gene have been reported, out of which six are variants with uncertain significance and the rest were pathogenic variants. All of them were heterozygous, loss of function mutations with autosomal dominant transmission/de novo origin. One missense mutation c.331C > T (p.R111C) was found in one kindred each with parkinsonism and SCA-35 phenotype. One patient from each phenotype had a novel splice site mutation, while one and two patients with SCA-35 had nucleotide deletion and duplication, respectively. The rest of the 28 mutations, described in the remaining 43 patients, were also missense point mutations. However, for the site of these mutations, no hotspot on any of the exons of the TGM6 gene could be identified. No definite genotype–phenotype correlation could be established from the details of available patients. No statistically significant difference could be elicited similarly between the age of onset (p = 0.43), age of presentation (p = 0.36), gender distribution (p = 0.93), or mutation characteristics (p = 0.56) between the patients presenting with SCA-35 or PD. Furthermore, the clinical characteristics of males and females with either phenotype were not significantly different in any prospects.
Discussion
We have described the detailed clinical features of 48 cases with TGM6-related movement disorders. Around two-third of cases presented with cerebellar ataxia, whereas the rest of the patients presented with features of parkinsonism. While most patients had onset in the young adult age group with SCA-35 phenotype, these two contrasting phenotypes do not appear to be completely watertight. Few patients with SCA-35 had variable extrapyramidal features, including parkinsonism. However, FDG or DAT PET scan was not performed in any of these patients, which could have identified subclinical abnormalities. If such subclinical abnormalities are detected in the future in the majority of cases of SCA-35, then probably levodopa/carbidopa combination should be tried in them as one of the potential therapeutic options. Why some of the missense point mutations lead to SCA phenotype with cerebellar atrophy, whereas, rest of the mutations lead to late-onset PD phenotype, remains unanswered and needs to be investigated in future studies. Recently, few affected cases in kindred with CAG repeats in the ATM gene and additional variants in the TGM6 gene. Although the interaction between these two genes needs to be examined carefully in the future, another task for clinicians will be to perform linkage analysis and explore other trinucleotide repeats in patients with SCA-35 phenotype, having TGM6 variants. Fung et al14 have also recently cast doubt on the pathogenicity of TGM6 variants in SCA-35 patients. Since SCA-35 is only a recently described entity, molecular testing based on large population screening studies in patients with unexplained ataxia will only generate concrete evidence about the true pathogenic role of TGM6 in SCA patients.
Conclusion
In patients with SCA like presentation with the probable autosomal dominant transmission, especially when it is accompanied by extrapyramidal features, spasmodic torticollis, impaired proprioception, or myoclonus, TGM6 mutation should be clinically suspected. Although most patients had onset after the third decade of life, presentation in childhood or adolescence should not preclude clinicians from suspecting SCA-35.
Conflict of Interest
None declared.
Show Sections