Translate this page into:

doi:
10.4103/0976-3147.63104
Back bugged: A case of sacral hydatid cyst
Address for correspondence: Dr. Dhaval Shukla, Department of Neurosurgery, National Institute of Mental Health and Neurosciences (NIMHANS), Hosur Road, Bangalore-560 029, India. E-mail: neurodhaval@rediffmail.com
© Journal of Neurosciences in Rural Practice
Licence
This is an open-access article distributed under the terms of the Creative Commons Attribution-Noncommercial-Share Alike 3.0 Unported, which permits unrestricted use, distribution, and reproduction in any medium, provided the original work is properly cited.
Disclaimer:
This article was originally published by Medknow Publications and was migrated to Scientific Scholar after the change of Publisher.
Abstract
Hydatid cyst of bone constitutes only 0.5 - 2% of all hydatidoses. The thoracic spine is the most common site of spinal hydatidoses. Primary hydatid cyst of the sacral spinal canal is rare. A 23-year-old gentleman had back pain five years ago. At that time he was evaluated and found to have a small cyst in S1 spinal canal, which was presumed to be a benign Tarlov's cyst; and no treatment was offered. He continued to have back pain and also developed sciatica on the right side. Neurological examination presently revealed right S1 radiculopathy. Magnetic resonance imaging (MRI) showed a large multiloculated cystic lesion extending from L5 to S2 spinal canal with bone erosion, both anteriorly and posteriorly. He underwent L5 to S2 laminectomy and excision of multiple cysts. The whole cyst was excised and cavity irrigated with sterilized formalin. A laparoscope was introduced in the cavity to look for extension into the pelvis and to confirm complete excision. Postoperatively, the patient received albendazole for two months. At 16 months follow-up the patient was asymptomatic. Hydatid cyst of sacrum is rare and can be missed at initial presentation. If the patient with a cystic lesion of sacral continues to have symptoms the diagnosis should be revaluated and prompt treatment should be offered.
Keywords
Cestode
echinococcus
hydatid
sacrum
spine
Introduction
The commonest site of hydatid cyst is liver and lungs. Skeletal hydatidosis occurs in 0.5 to 2% cases, half of which infest the spine.[1–3] The commonest site is thoracic and sacral involvement is rare.[2] We report a case of sacral hydatid cyst.
Case Report
A gentleman aged 27 years presented with back pain, right sciatica and voiding difficulty for last one year. In 2003 he was evaluated elsewhere for back pain when he did not have neurological deficits. Magnetic resonance imaging (MRI) at that time showed small cystic lesion in sacrum and no active treatment was offered [Figure 1]. He is a vegan, has no pets at home and never had back injury.
On presentation to our clinic his neurological examination revealed weakness of right foot and hypoesthesia of dermatomes below L5. There was no significant restriction of straight leg raise (SLR). A repeat MRI done in 2007 showed significant increase in size of cyst with inhomogeneous contents [Figure 2]. Our working diagnosis was a cystic bone tumor.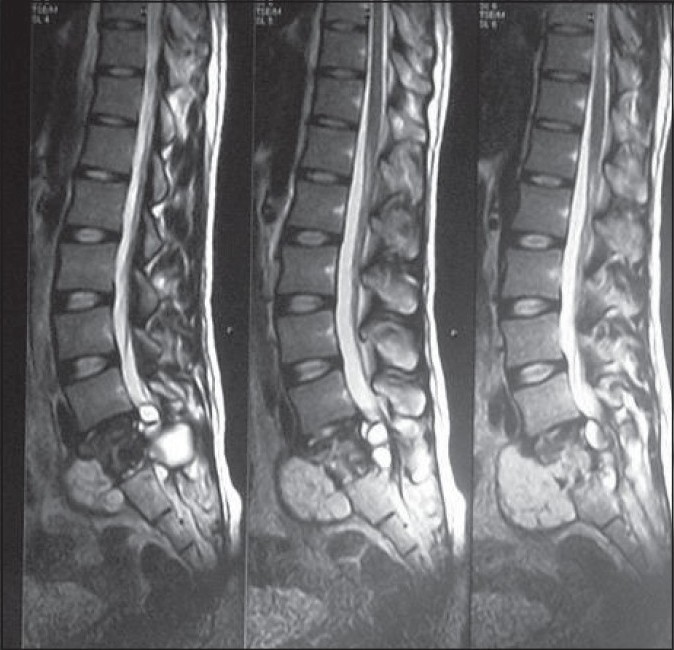 He underwent L5 to S2 laminectomy and excision of cyst. Cyst was lined by thin fibrous wall and had eroded laminae of S2. Inner lining of cyst was white with multiple daughter cysts within [Figure 3]. The fluid was clear. A few types of sediments were also present. The cyst cavity was irrigated by formalin 1%. No adverse reaction occurred during surgery. Cyst was totally excised and laparoscopic inspection was done to look for intrapelvic extension and confirm completion of excision. A negative suction drain was placed in the space left behind after excision of cyst.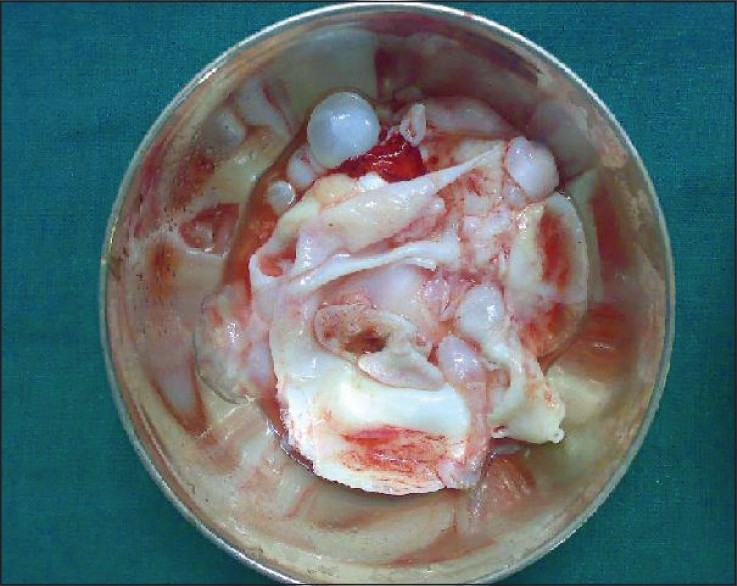 Postoperatively, he had persistent watery discharge. A myelo computerized tomography (CT) scan of spine did not reveal any cerebrospinal fluid (CSF) leak. The drain was retained for 12 days and leak subsided. X-ray chest and ultrasound examination of abdomen did not reveal any other cysts. He received albendazole 800 mg / day for two months. An MRI was done seven months after surgery showed collapsed cyst [Figure 4]. At the last follow-up after 16 months of surgery he was asymptomatic.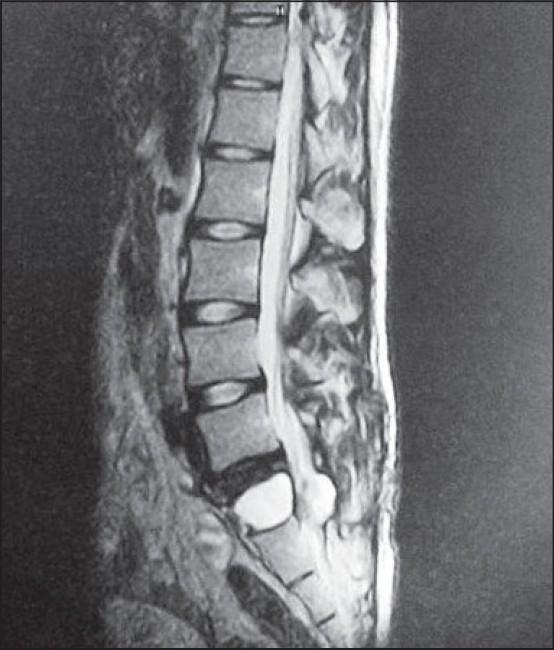 Conclusion
A missed diagnosis of hydatid cyst could be devastating. Hence, hydatid cyst should be kept as a differential diagnosis when encountered with a cystic lesion of sacrum. In addition, long-term follow-up is mandatory as recurrence is high despite use of scolicidal agents.
Conflict of Interest: None declared.
Show Sections